Thanksgiving Day Pumpkin Pie
Phillip
It's time for Holiday baking! When we think of Thanksgiving, we think of all things pumpkin. What better way to celebrate Thanksgiving than a homemade pumpkin pie? We have finally decided to share our family secret recipe with you!
This simple recipe will no doubt create a mouthwatering pie that you just can't find in the grocery store. The blended flavors of Bolner's Fiesta Brand® Fresh Ground Cinnamon, Nutmeg, Cloves and Allspice will create not only a tasty dessert, but also fill your home with the wonderful aromas of Thanksgiving!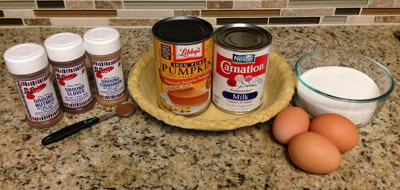 Ingredients:
1 deep Dish Pie Crust
3 eggs
1 cup sugar
1/4 tsp salt
1 can solid packed pumpkin
1 can condensed, evaporated milk
1/2 tsp Bolner's Fiesta Brand® Allspice
1/4 tsp Bolner's Fiesta Brand® Ground Cloves
1/2 tsp Bolner's Fiesta Brand® Ground Nutmeg
Preheat Oven to 450° F
In a mixer, beat the eggs lightly, add the sugar, and mix well. Add all the other ingredients and blend thoroughly. Pour into unbaked pie shell*. Bake for 12 minutes.
Reduce heat to 350° F and continue baking until custard is set, about 35minutes. Carefully remove the pie from the oven and let it stand at least 1 hour before serving. This will help the custard finish setting.
Serve warm or cold with Whipped Cream!
*To help your crust from not turning too dark, cover the crust with either a hoop of tin foil or a Pie crust savor. Remove the foil or Crust saver for the last 5 minutes of baking to darken the crust up if you would prefer.