Beefed-Up Chile Rellenos Breakfast Casserole
Phillip
This hearty and delicious Chile Rellenos Breakfast Casserole is perfect for Sunday brunch or a relaxing weekend breakfast! This version includes seared skirt steak, which is an homage to one of our favorite versions of this traditional dish! Full of incredible authentic Tex-Mex flavor, this low carb dish is a definite crowd pleaser!
Yields 8-10 servings
Ingredients:
4 fresh poblano peppers
2 vine ripened tomatoes
1 Tbsp. butter
1 pound skirt steak, thinly sliced against the grain and cut into 1" pieces
1 Tbsp. Fiesta Brand Fajita Seasoning
1/2 tsp. Fiesta Brand Garlic Powder
1 medium yellow onion, sliced
1 cup shredded pepper jack
1 cup shredded mild cheddar
12 eggs
½ cup sour cream
¼ tsp. Fiesta Brand Paprika
¼ tsp. salt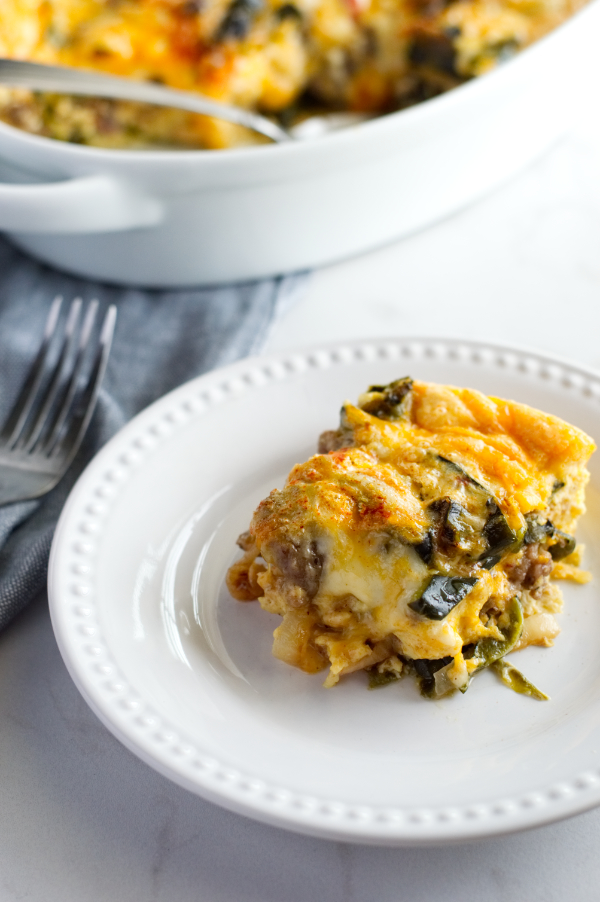 Directions:
Prepare a casserole dish or 9×13 pan by generously spraying or greasing the sides and bottom of the dish.
Preheat oven to 425 degrees. Place the poblanos and tomatoes on a parchment lined sheet pan and roast for 20 minutes. Remove from oven and place poblanos in a small bowl and cover with plastic wrap and let sit for 15 minutes. Remove the plastic wrap and remove skin, stem and seeds from the peppers. Remove the skin from the tomato, slice in half, remove the seeds and liquid from the tomato and lay to dry on a paper towel. Slice the poblanos and tomatoes into strips and set aside.
Lower the oven temperature to 325 degrees. Season the sliced skirt steak with the fajita seasoning and garlic powder, tossing to coat. Preheat a heavy bottom or cast-iron skillet over medium high heat. Once the pan is hot, add the butter and steak and cook for 3-4 minutes, stirring constantly. Once the steak begins to caramelize and is just barely cooked through, remove it from the pan and set aside.
Add the sliced onions to the pan. Cook the onions for 3-4 minutes, stirring constantly and using them to pick up any bits stuck to the bottom of the pan. Turn the heat off, add the steak back to the pan and toss to combine with the onions. Add the sliced poblanos and tomatoes and toss gently to combine with the steak.
Place the steak and veggie mixture into the prepared pan. Add ½ cup pepper jack and ½ cup cheddar to meat and veggies mixture and stir to combine.
In a large mixing bowl, combine the eggs, sour cream, paprika and salt. Wisk gently to combine. You don't want to add too much air to the mixture so don't whip the eggs. Once combined, pour the eggs mixture over the steak and veggies. Sprinkle with the remaining cheese and bake at 325 for 45-50 minutes or until completely set. Remove from oven and let sit for 5-10 minutes before serving. Serve with your favorite salsa and sliced avocado.