Cheesy Stuffed Tomatoes
Phillip
These easy and delicious Italian style stuffed tomatoes are perfect for using any surplus from your summer garden. Serve these tomatoes for lunch or a light dinner with a simple salad. This filling is also delicious stuffed in squash, bell peppers or eggplant!
Prep Time: 30 mins / Cook Time: 20 mins
Serves: 8
Ingredients: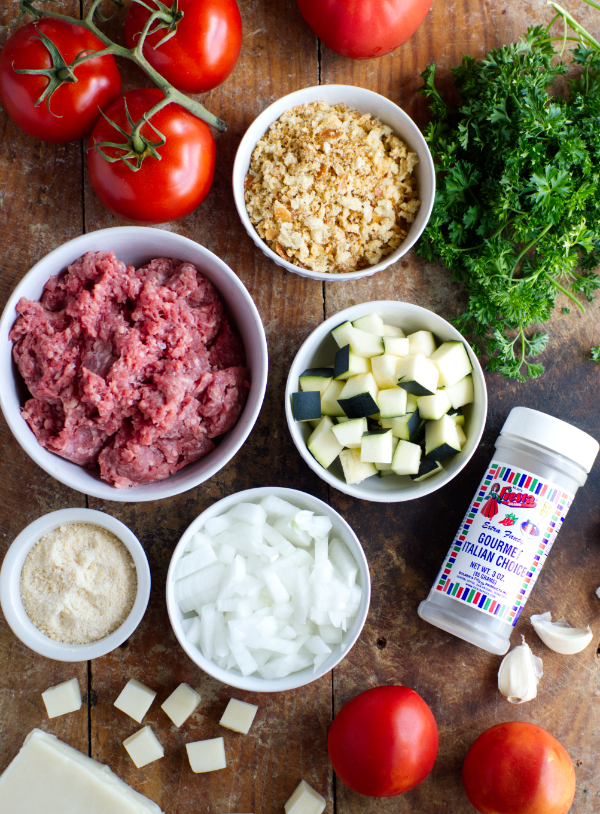 8 large tomatoes
2 Tbsp. olive oil
1 medium onion, diced
4 cloves garlic, finely chopped, or 4 tsp. Fiesta Brand® Garlic in Oil
1 lb. lean ground beef
2 tsp. Fiesta Brand® Gourmet Italian Choice Seasoning
1medium zucchini, diced
1 ½ tsp. salt, divided
1 cup breadcrumbs
6 oz. mozzarella cheese, diced into ¼" cubes
¼ cup grated parmesan cheese
2 Tbsp. chopped parsley
3 Tbsp. chopped basil
Directions
Preheat oven to 400 degrees F. Grease a casserole or baking dish and set aside.
Using a pairing knife, remove the core from each tomato by cutting he top off creating a 2-3" opening. With a spoon, remove the seeds and insides and drain any liquid from the tomatoes.
In a large skillet, heat the olive oil over medium heat. Add the onion and sauté till translucent. Stir in the garlic and cook for another minute. Add the ground beef to the onions, season with 1 tsp. salt and Gourmet Italian Seasoning and brown. When the meat is halfway cooked, add the zucchini and remaining salt; continue to cook until the zucchini is tender, and meat is fully cooked.Remove the beef mixture from the heat.
Stir in the breadcrumbs, cubed mozzarella, parmesan cheese and chopped parsley and basil.Season the inside of the hollowed tomatoes with salt and pepper and place them into the prepared casserole dish. Fill each tomato with the beef mixture, mounding the filling over the tops of the tomatoes.Bake at 400 for about 20 minutes or until the cheese is melted and bubbly. Let sit for 10-15 minutes and serve.