Chicken Tortilla Soup: The Perfect December Weeknight Dinner
Phillip
Alamo City Moms Blog is happy to partner with Bolner's Fiesta Brand to share a delicious soup recipe. This is a sponsored post.
Chicken tortilla soup: the ultimate comfort food.
If you are anything like us, the time between Thanksgiving and Christmas feels like a blur. The kiddos are gearing up for winter break, travel plans are being made for the holidays, and hiding unwrapped holiday gifts feels like an Olympic Sport. Between school holiday programs and impending Christmas work parties, weekly meal planning has become a low priority.
Adding new recipes to your tried-and-true staples can be risky business, especially when you have littles. However, chicken tortilla soup is a wonderful classic comfort food for the cooler weather, and this recipe can give you leftovers that are even better the next day! The simple ingredients paired with Bolner's Fiesta Brand® Seasonings lead way to delicious Mexican flavors, guaranteed to hit the spot after a long day of present-hiding and child-wrangling. Whether you enjoy cooking on the stove, in your old friend the crock pot, or in your new bestie the InstantPot, this hearty chicken tortilla soup recipe has been mom tested and kid approved!
Prep time: 15 minutes
Cook time: 45 minutes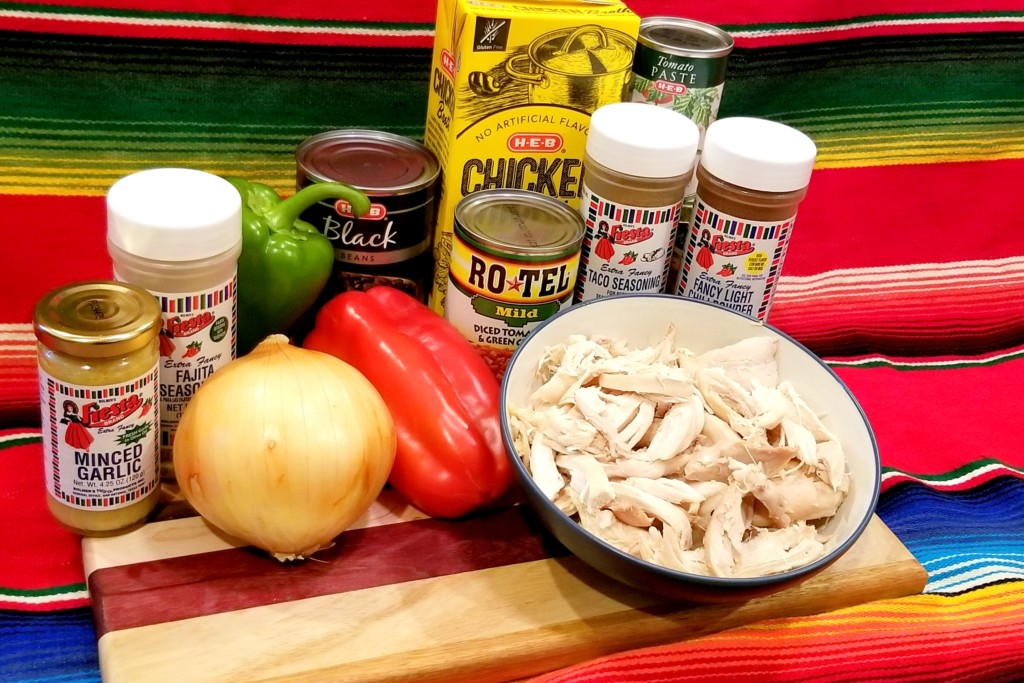 Ingredients:
1 rotisserie chicken
1 Tbsp. vegetable oil
½ onion, diced
1 green bell pepper, diced
½ red bell pepper, diced
4 cloves garlic, chopped
1 can mild Rotel tomatoes (or use "original" for a spicier soup)
4 cups chicken stock
3 Tbsp. tomato paste
2 cans whole black beans
2 Tbsp. Bolner's Fiesta Brand® Chili Powder (add more to taste)
1 Tbsp. Bolner's Fiesta Brand® Taco Seasoning (add more to taste)
2 tsp. Bolner's Fiesta Brand® Fajita Seasoning (add more to taste)
Tortillas or chips
Garnish (sour cream, cheese, guacamole, etc.)
Directions:
De-bone and shred rotisserie chicken and set aside.
In 1 Tbsp. of oil, sauté onions and bell peppers until softened, about 5 minutes. Add garlic and spices and stir until aromatic, about 1 minute.
Stir in de-boned chicken, black beans, Rotel tomatoes, tomato paste, and chicken stock.
Bring the soup to a boil, and then simmer for about 45 minutes, stirring occasionally. Add water if needed, and season to taste.
Prior to serving, gently stir in tortilla strips, or serve with chips. Garnish with your favorite toppings, and enjoy!
Bolner's tip: For the perfect guacamole, mash up avocados and sprinkle in our secret ingredient, Fajita Seasoning, for a delicious topping that everyone will enjoy!