Citrus Marinated Pork Tenderloin
Phillip
Make use of those holiday fruit baskets by squeezing fresh ruby red grapefruit and navel oranges for this mouthwatering citrus marinade, perfect for marinating succulent pork tenderloin. A few moments on the grill or in the oven and a delicious dinner is done! Typically, two tenderloins come packaged together in the meat section of the grocery store. For ease, zest the citrus before squeezing!
Yields 4 servings
Prep Time: 10 minutes
Inactive Prep: 2 -4 hours
Cook Time: about 25 minutes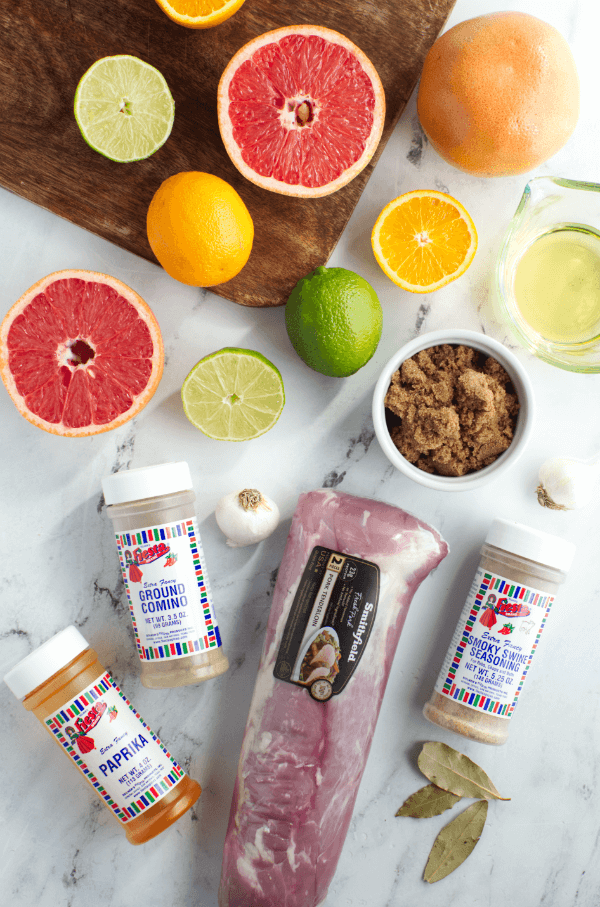 Ingredients:
½ cup dark brown sugar
¼ cup oil
4 cloves garlic, minced
1 ½ tsp. Fiesta Brand Paprika
½ tsp. Fiesta Brand Cumin
¾ cup fresh grapefruit, approx. 1-2 grapefruits
1 tsp. grapefruit zest
1/3 cup fresh orange juice, about 2 oranges
1 tsp. orange zest
2 Tbsp. fresh lime juice
1 ½ tsp. kosher salt
1 tsp. Fiesta Brand Black Pepper
1 bay leaf
2 pork tenderloins
Fiesta Brand Smoky Swine Seasoning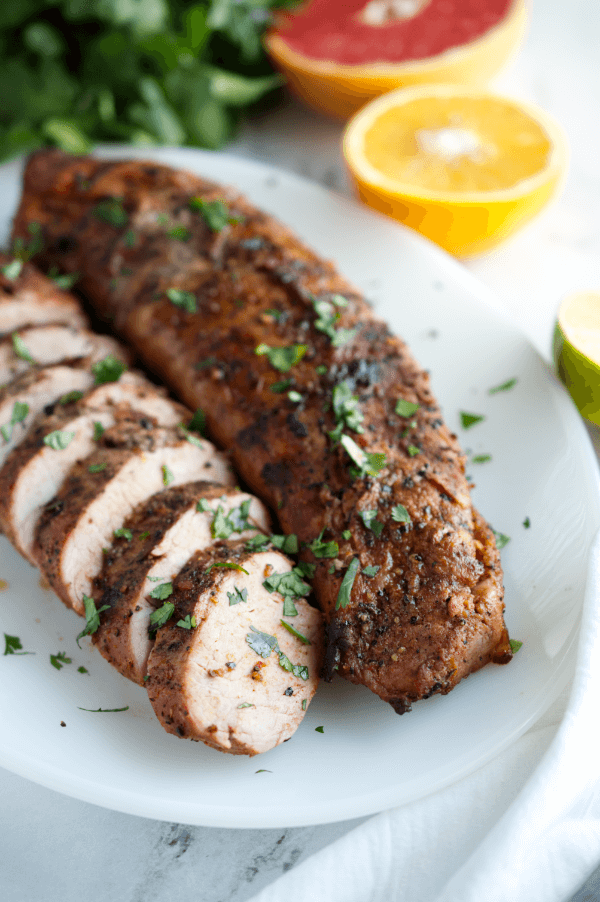 Directions
Combine the brown sugar, oil, garlic and the next 10 ingredients and stir well to combine.
Place the 4 tenderloins in a gallon zip top bag and pour marinade over the pork. Remove the air from the bag, seal and refrigerate for 2-4 hours.
When ready to cook, remove the pork from the marinade and pat dry with a paper towel. Discard marinade. Season the tenderloins liberally with Smoky Swine Seasoning.
Preheat the grill to 400 degrees. Place tenderloins on the grill and cook until a meat thermometer inserted in the thickest part reaches 160 degrees (medium) or until desired doneness. Let the pork rest for 5-10 minutes covered with foil before slicing.
To cook in the oven, preheat to 375 degrees. Place tenderloins on a lightly greased sheet pan or broiler pan. Bake for 25 to 30 minutes or until desired doneness. Let rest prior to slicing