Eggplant Rollups
Phillip
These tasty ricotta-filled Eggplant Rollups can be served up as a low carb meatless main dish with a simple salad or as a hearty side along with chicken or fish.
Prep Time: 25 minutes
Cook Time: 45 minutes
Serves: 6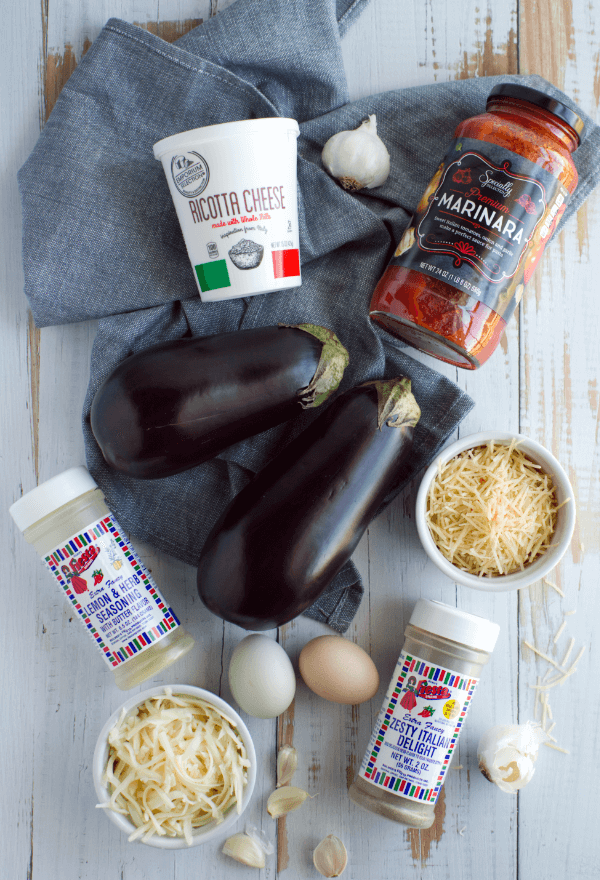 Ingredients:
2-3 eggplant, sliced lengthwise in ¼" slices (about 12 slices)
Olive oil
1 15 oz. container ricotta cheese
3 cloves garlic, finely minced or 3 tsp Fiesta Brand Miced Garlic in Oil
1 egg
2 cups shredded mozzarella, divided
¼ cup shredded Parmesan cheese
1 Tbsp. chopped basil
½ tsp. Fiesta Brand Zesty Italian Seasoning
½ tsp. Fiesta Brand Lemon& Herb Seasoning
½ tsp. salt
¼ tsp. pepper
2 cups marinara sauce, divided

Directions
Preheat the oven to 400 degrees F. Place the eggplant slices in a single layer on paper towels and sprinkle the slices lightly with salt and let sit for 10-15 minutes. Pat the eggplant dry. Place the eggplant slices on a parchment lined sheet pan and brush both sides with olive oil. Bake in a preheated oven for 12-15 minutes, flipping halfway through cooking, till the eggplant begins to turn golden. Remove from oven and cool on the pan.
While the eggplant is baking,stir together the ricotta cheese, garlic, egg, 1 cup mozzarella, parmesan, basil, both seasonings, salt and pepper.
Reduce the oven temperature to 375 degrees F. Pour about 1 cup of marinara into a 9×9 or 11×7 baking dish. Spread 2-3 tablespoons of the ricotta mixture over each slice and roll up from the short end. Place the roll seam side down into the baking dish. Repeat the process with the remaining ricotta mixture and eggplant slices.
Top the eggplant rolls with the remaining marinara and sprinkle the remaining 1 cup of mozzarella over the top. Cover the dish with foil and bake for 25 minutes, uncover and bake for an additional 5-10 minutes. Serve immediately topped with shredded parmesan and fresh chopped basil.