Fiesta Minestrone Soup
Phillip
Our fabulous dried chilis give this Fiesta Minestrone Soup incredible flavor! Perfect for warming up on a cold winter night, this comforting soup is easy to make and loaded with hearty veggies, beans and hominy. Don't forget the toppings!! For the meat lovers, add chicken or shredded pork!
Prep Time: 30 minutes
Cook Time: 40 minutes
Serves: 6-8
Ingredients:
2 Fiesta Brand® Dried Ancho Chilies, stems and seeds removed
1-2 Fiesta Brand® Chili de Arbol, stems and seeds removed ** See recipe notes
1 ½ cup diced onion, divided
6 cloves garlic. divided
1 ½ cups water
1 ½ tsp. salt
2 Tbsp. oil or bacon drippings
1 cup diced celery
½ cup diced carrot
2 medium zucchini, diced
½ tsp. Fiesta Brand® Ground Comino
6 cup chicken or vegetable stock
1 8 oz. can tomato sauce
1 15 oz. can cannellini beans
1 15 oz. can hominy
2 tsp. Fiesta Brand® Mexican Oregano
1 Fiesta Brand® Bay Leaf
1/2 cup small pasta (small shells or ditalini)
Garnish: Sliced avocado, shredded jack cheese, sour cream, diced purple onion, lime wedges.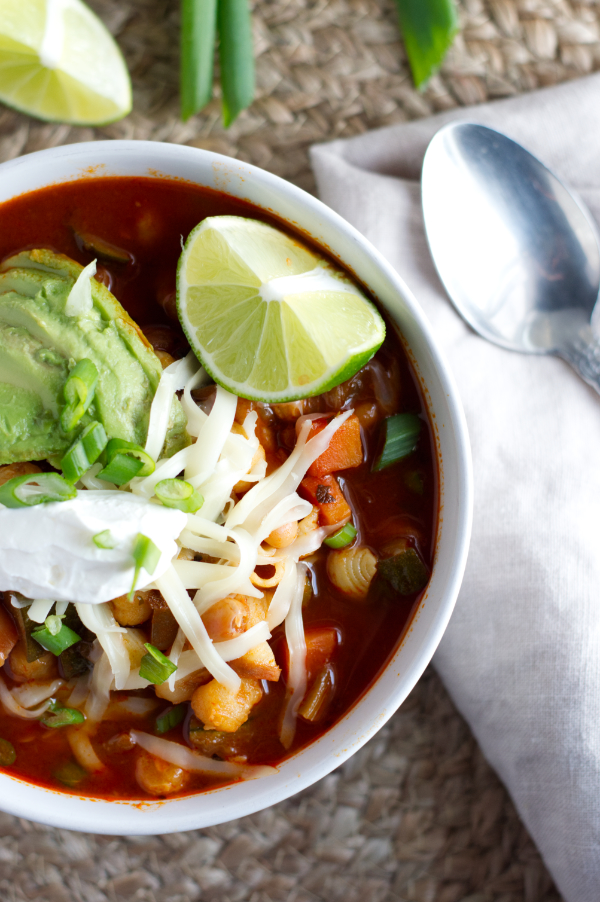 Directions
In a small saucepan, combine dried chilies, ½ cup onion, 3 garlic cloves, ½ tsp. salt and water and bring to a boil over medium heat. Cook for 10 minutes, turn heat off and let sit for 20 minutes. Pour the chilis and liquid into a blender, blend till smooth and set aside. Use caution when blending hot liquid.
In a Dutch oven or 6-quart stock pot heat the oil or bacon drippings over medium high heat. Add the remaining onion, celery, carrot and season with 1 ½ tsp. salt and cook for 6-8 minutes until the vegetables are tender and start to brown. Add the diced zucchini and the remaining 3 garlic cloves (finely chopped) and cook for an additional 5 minutes. Add the comino and the pureed chilis and cook for another 1-2 minutes, stirring constantly. Add the chicken stock, tomato sauce, beans, hominy, oregano, and bay leaf. Bring to a boil and simmer on low for 30-35 minutes. Right before serving, add the pasta to the soup and cook for another 6-8 minutes or until the pasta is tender. Taste and adjust salt as needed.
Serve topped with sliced avocado, shredded jack cheese, sour cream, diced purple onion and lime wedges.
Recipe Notes: If you want your soup a little spicier, use 2 of the Chili de Arbol.