Fresh Tomato Pie
Phillip
The classic combination of ripe tomatoes, fresh basil and mozzarella in this savory pie can't be beat! Enjoy this tasty tomato pie as a side dish or serve it with a green salad for lunch or weekend brunch.
Prep Time: 15 mins
Cook Time: 40 mins
Serves: 8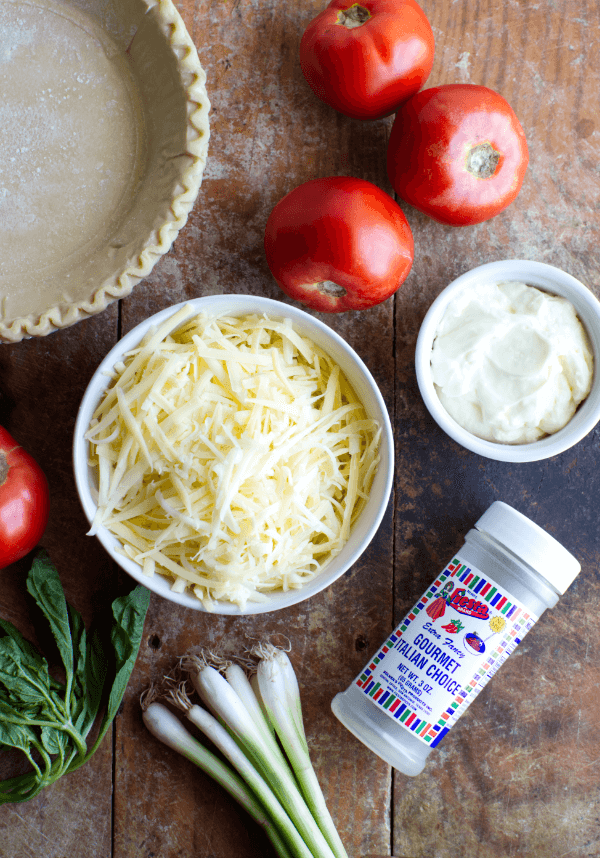 Ingredients:
1 9" baked pie crust
3 – 4 medium fresh tomatoes, sliced in ½" slices
2 cups shredded mozzarella cheese
1/3 cup sliced green onion
2 Tbsp. chopped basil
¾ cup mayonnaise
½ tsp. Bolner's Fiesta Brand Garlic Powder
½ tsp. Bolner's Fiesta Brand Gourmet Italian Delight
¼ tsp. pepper
Directions
Place the sliced tomatoes in a simple layer on paper towels, sprinkle with salt and let sit 10-15 minutes. With another paper towel, pat the tomatoes to remove any excess moisture from the tomatoes. The tomato slices should be as dry as possible to prevent a watery pie.
Preheat the oven to 350 degrees F. Sprinkle 1 cup shredded cheese in the bottom of the pie crust and top with ½ the green onion and 1 Tbsp. chopped basil. Layer the tomato slices evenly into the crust. In a bowl, combine the remaining mozzarella cheese, green onion and basil with the mayonnaise and next 3 ingredients and stir well. Spread the mixture evenly over the top of the tomato slices. Bake for 35-40 minutes until golden brown and bubbly. Let stand 10 minutes before serving. Enjoy warm or at room temperature.