Grilled Jalapeno Chicken Thighs
Phillip
Summertime means it's grilling season and these easy, flavor packed chicken thighs should be on the menu for your next backyard BBQ!  The mild and bright marinade gives amazing flavor to this chicken…a real crowd pleaser!
Serves 6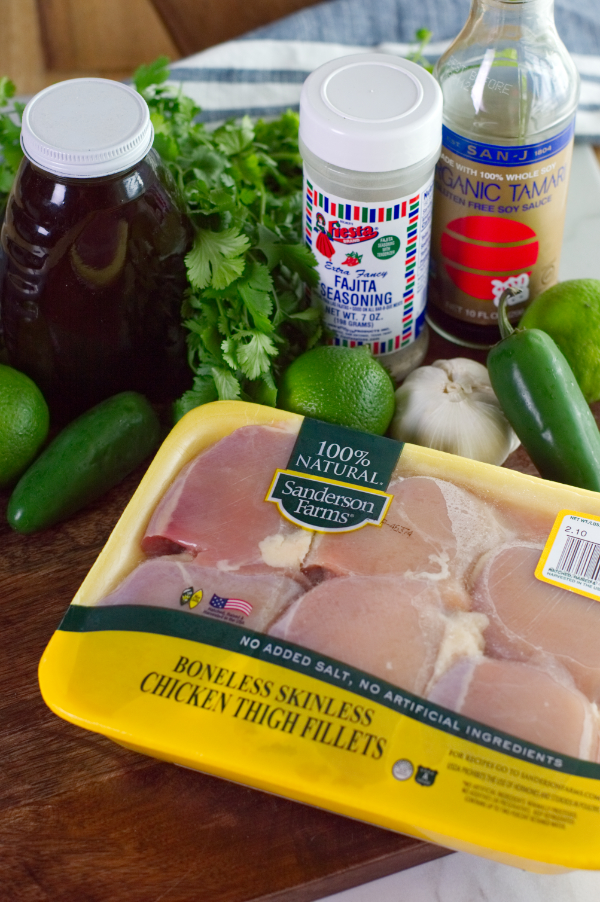 Ingredients:
6 boneless, skinless chicken thighs
1/3 cup fresh lime juice
2 fresh jalapenos, trimmed, halved and seeded
1/8 cup fresh cilantro
4 cloves garlic
2 Tbsp. honey or brown sugar
1 Tbsp. soy sauce
1 tsp. Bolner's Fiesta Brand® Fajita Seasoning
2 Tbsp. olive oil (not extra virgin)
Additional Fiesta Brand® Fajita Seasoning

Directions
Place the chicken thighs in a ziptop bag.  In a blender, combine the lime juice and the next 7 ingredient and blend on high until smooth.  Pour the mixture into the bag with the chicken thighs, reserving 3 tbsp. of the marinade in the fridge for grilling time.  Remove the air, seal the bag and refrigerate for 2-8 hours or overnight.
Preheat the grill to 350-400 degrees F.  Remove chicken from the marinade, place on the grill and discard the bag. Season the chicken on the grill with additional Fajita seasoning.  Grill 10-12 minutes per side or until the chicken thighs reach an internal temperature of 165 degrees F. Before removing the chicken from the grill, brush the cooked chicken with the reserved marinade. Remove from the grill and serve as desired.
Recipe Note:  Check the heat of your jalapenos before adding them to the blender.  If your jalapenos are on the hot side, reduce to 1 pepper.