Honey Citrus Glazed Chicken
Phillip
An easy garlic citrus marinade is the secret to creating these juicy, flavorful chicken thighs. Serve this chicken with rice and a green salad for a simple, delicious dinner the family will love!
Prep Time: 15 mins
Inactive Prep: 4-6 hours
Cook Time: 40 mins
Serves: 6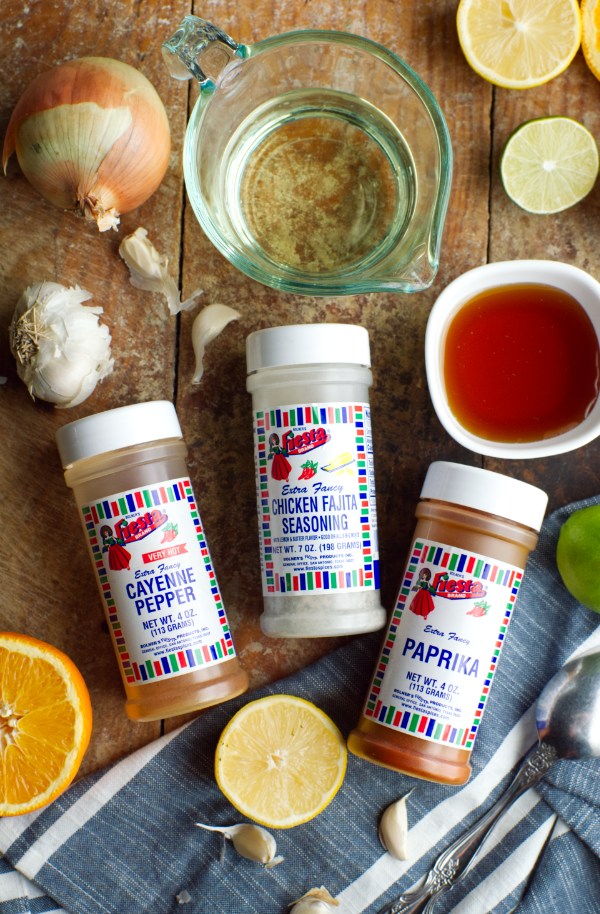 Ingredients:
6 bone-in chicken thighs
8 cloves garlic, smashed or 8 tsp Bolner's Fiesta Brand Chopped Garlic in Oil
4 Tbsp. avocado or olive oil
2/3 cup fresh orange juice
1/3 cup fresh lime juice
2 Tbsp. fresh lemon juice
1 ½ Tbsp. honey
1 ½ tsp. salt
½ tsp. Bolner's Fiesta Brand Black Pepper
½ tsp. Bolner's Fiesta Brand Paprika
¼ tsp. Bolner's Fiesta Brand Cayenne Pepper (optional)
1 medium onion, halved and sliced
Bolner's Fiesta Brand Chicken Fajita Seasoning (to taste)

Directions:
Place the chicken thighs in a gallon zip top bag and set aside. In a bowl, combine garlic, oil, orange, lime and lemon juice, honey, salt, pepper, paprika, and cayenne, if using. Reserve ¼ cup of marinade and pour the remaining marinade into the zip top bag with the chicken thighs, seal and refrigerate for 4-6 hours.
When ready to cook the chicken, preheat oven to 400 degrees F. Remove the chicken from the marinade and pat the chicken dry with a paper towel.Discard marinade. Arrangethe thighs on a sheet pan lined with parchment, season with Chicken Fajita Seasoning and place the sliced onion around and between the chicken thighs. Bake 35 to 40 minutes, or until the internal temperature reaches 170 degrees F, using the reserved marinade to baste the chicken 1-2 times as the chicken cooks. The chicken skin will become a dark mahogany color, cover with foil if needed to prevent excess browning.