Italian Frittata
Phillip
Prep Time: 15 mins
Cook Time: 20 mins
Serves 8-9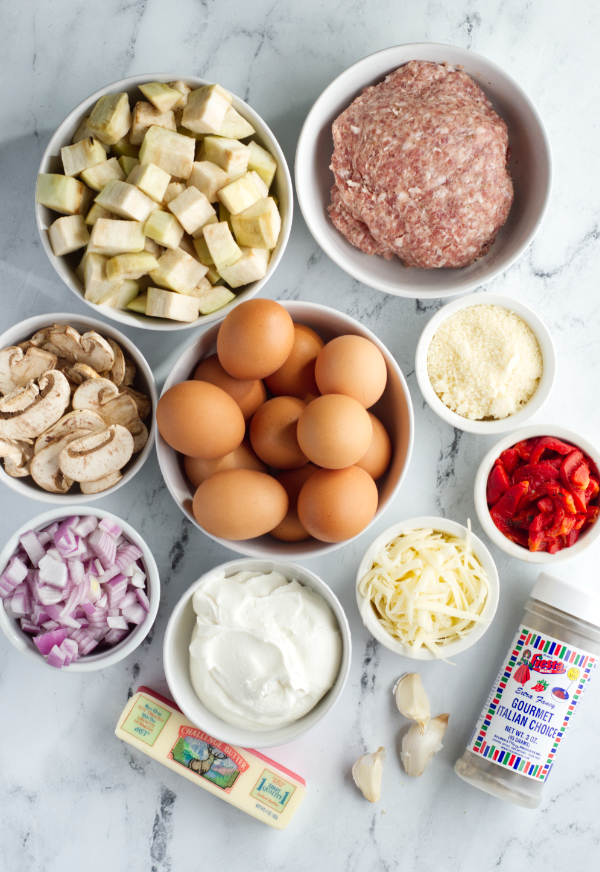 Ingredients:
2 Tbsp. butter
2 Tbsp. olive oil
½ cup diced onion
8 oz. sliced mushrooms
1 medium eggplant, peeled and diced
2 tsp. salt, divided
3 cloves garlic, finely chopped
1 tsp. Fiesta Brand® Gourmet Italian Choice
½ cup roasted red peppers, drained and chopped
1 lb. ground sweet Italian sausage, browned and drained
1 cup grated mozzarella
10 eggs
¼ tsp. pepper
1 cup whole milk ricotta
3/4 grated parmesan, divided

Directions
Heat the butter and oil in a 12-inch non-stick skillet over medium high heat. Add the onion, mushrooms, eggplant and 1 tsp. salt and cook for 10-12 minutes, until the vegetables are tender and beginning to brown and caramelize. Add the garlic and Italian seasoning and cook for another minute. Stir in the roasted red pepper and the cooked sausage. Sprinkle the mozzarella cheese evenly over the top of the sausage mixture.
Preheat oven to 400 degrees F. In a mixing bowl combine the eggs, ricotta, ½ cup grated parmesan, pepper and 1 teaspoon salt. Whisk until well combined. This can also be done in a blender on low speed until combined. Pour the egg mixture over the sausage and veggies. Reduce the heat to medium low and let the frittata sit for 2-3 minutes. As the eggs start to cook, gently lift the edges of the frittata with a rubber spatula, moving and tilting the pan to allow some of the uncooked egg to go underneath. Once the edges are set, turn the heat to low, cover and cook for 10-12 minutes. The frittata will be mostly cooked, but the top will not be set.
Uncover, sprinkle with the remaining ¼ grated parmesan and bake at 400 degrees about 8 minutes or until golden brown and set. Serve warm or at room temperature.