Jacked-Up Corn & Poblano Fritters
Phillip
Crispy on the outside, gooey on the inside and the perfect blend of sweet and savory, these poblano studded corn fritters are full of amazing flavor and make a great addition to any brunch or dinner. Feel free to use fresh corn if available and in season!
Yields 16 fritters
Prep Time: 15 minutes
Cook Time: 5 minutes per batch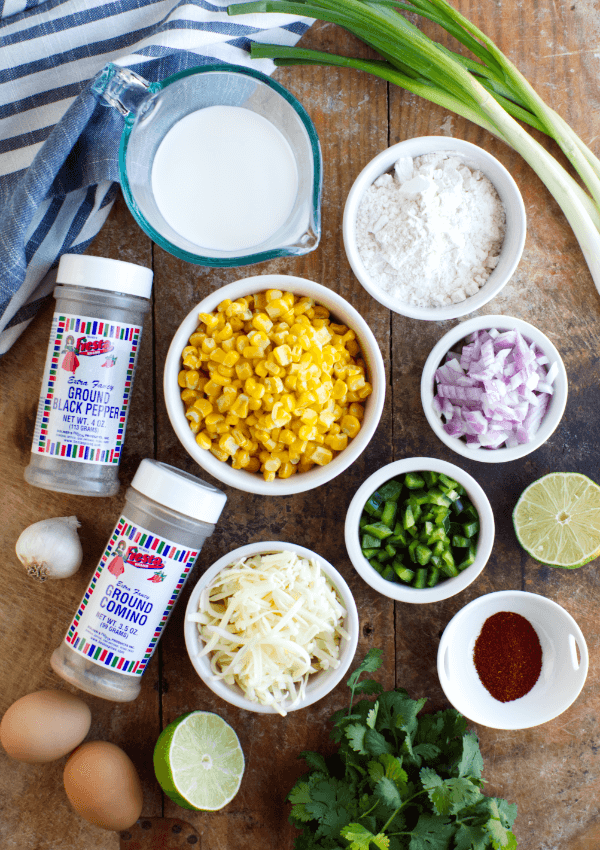 Ingredients:
2 tablespoons butter
½ cup purple onion, finely diced
1 large poblano pepper, seeded, deveined & diced
3 cloves garlic, minced
1 cup all-purpose flour
1 tsp. baking powder
¼ tsp. Fiesta Brand Black Pepper
½ tsp. Fiesta Brand Cumin
½ tsp. Fiesta Brand Chili Powder
1 tsp. lime zest
3 cups frozen corn kernels, thawed and patted dry
3 green onions, sliced
1 ¾ cup shredded Monterrey Jack cheese
2 eggs, beaten
¼ cup milk
Avocado or olive oil for frying
Garnish: Sour Cream, Chopped Cilantro

Directions
Melt 2 tablespoons butter in a medium skillet over medium heat. Add the onion and poblano, season with ½ tsp. saltand sauté until the vegetables are tender, about 3-5 minutes. Add the garlic and cook for another 30 seconds. Remove from heat and set aside to cool.
Stir together flour, baking powder, pepper, cumin, chili powder and lime zest; set aside.
In a large bowl, combine the corn, green onions, shredded cheese and the cooled cooked vegetables. Sprinkle the flour mixture over the corn mixture and toss to coat the ingredients in the flour. Add the beaten eggs and milk and stir well to combine.
To cook the fritters, heat a large skillet over medium heat and just cover the bottom of the pan with oil. When the oil is hot, scoop or spoon mounds of the corn mixture, 2-3 tablespoons in size, into the pan, slightly flattening and forming it into a round shape. Cook 2-3 minutes until golden, flip and cook for an additional 2 minutes or until cooked through and crispy, golden brown, adding more oil as needed. Place the cooked fritters on a paper towel to drain any excess oil and allow them to cool for 3-5 minutes prior to serving. Repeat till all the batter is used. Serve fritters warm topped with sour cream and chopped cilantro.