Jalapeno Coleslaw
Phillip
This quick and easy, spiced up slaw is the perfect side for a BBQ or weekend cookout! Serve it up as a side or a cool, crisp topping for pulled pork sandwiches or tacos…either way this delicious dish is a winner!
Serves 8-10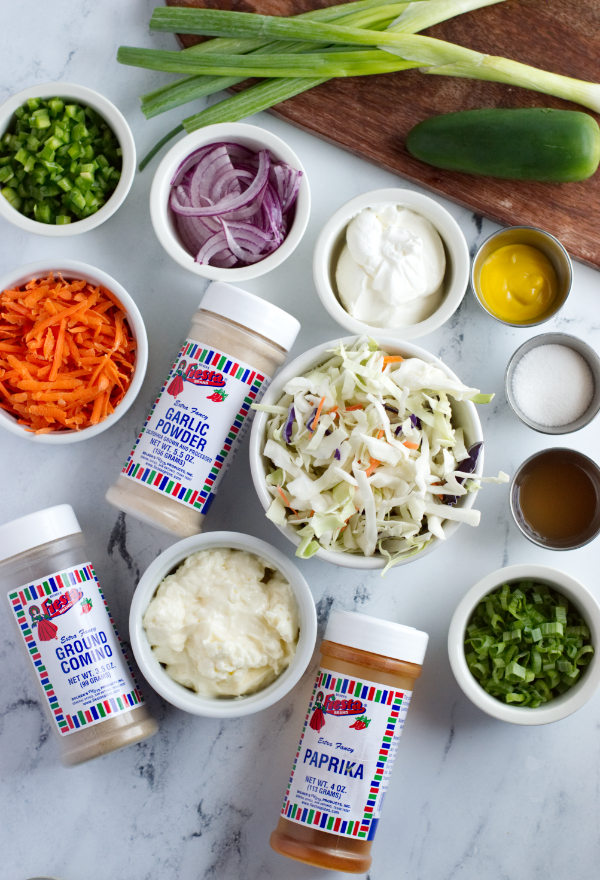 Ingredients:
2 – 1 lb. bags of coleslaw mix or 2 lbs. cabbage, finely shredded
½ cup shredded carrot
½ cup thinly sliced red onion (about ½ of a medium onion)
1/3 cup finely diced fresh jalapeno (mild to medium spice, depending on your taste)
¼ cup thinly sliced green onion (about 2 onions)
Dressing:
½ cup sour cream
½ cup mayonnaise
1 ½ Tbsp. apple cider vinegar
1 Tbsp. mustard
2 Tbsp. sugar
¼ tsp. Bolner's Fiesta Brand® Cumin
1/8 tsp. Bolner's Fiesta Brand® Garlic Powder
¼ tsp. Bolner's Fiesta Brand® Paprika
½ tsp. salt

Directions
Combine the first 5 ingredients in a large bowl and toss to combine.In a small bowl, combine the ingredients for the dressing and stir together. Pour the dressing over the vegetables and gently toss to coat the veggies. Cover and refrigerate until ready to serve.