Mexican Chocolate Pound Cake
Phillip
Prep Time: 15 mins
Cook Time: 75 mins
Serves 16-18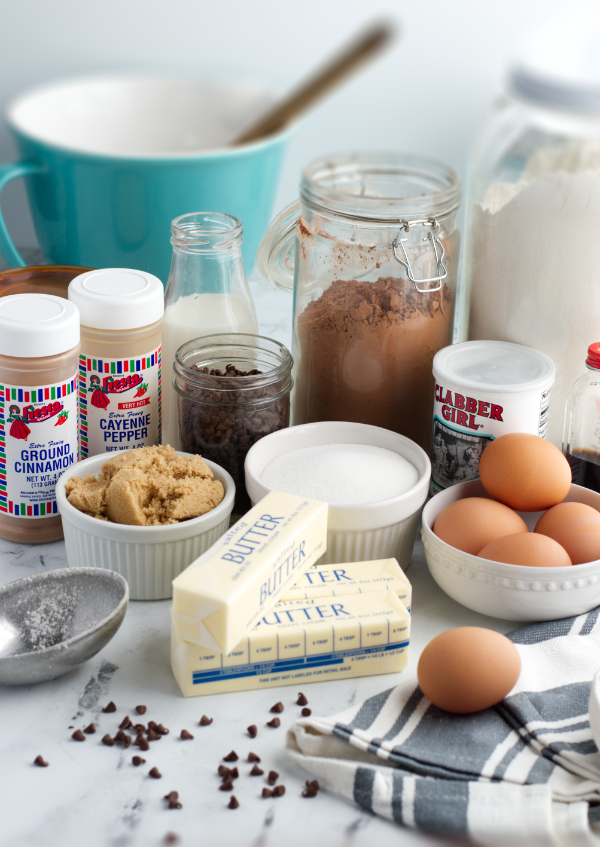 Ingredients:
1 ½ cup salted butter, softened
2 ½ cup sugar
½ cup brown sugar
5 eggs
1 Tbsp. vanilla extract
3 cups all-purpose flour
6 Tbsp. cocoa
1 ½ tsp. Fiesta Brand® Ground Cinnamon
½ tsp. salt
½ tsp. baking powder
1 cup + 2 Tbsp. milk
1 cup mini semisweet chocolate chips
For the Ganache Topping: (optional)
10 oz. semisweet chocolate chunks or chips
1 ¼ cup heavy cream
1/8 tsp. Fiesta Brand® Cayenne Pepper (optional)

Directions
Grease and flour a 10-inch tube or bundt pan and set aside.
With an electric mixer, beat the butter at medium speed for about 2 minutes or until creamy. Add the sugar ½ cup at a time and continue to beat for about 5 minutes, until light and fluffy. Add the eggs one at a time, mixing until just incorporated. Add vanilla.
Sift together the flour, cocoa, cinnamon, salt and baking powder. Add the flour mixture to the butter/sugar mixture in three batches alternating with the milk, mixing at low speed after each addition. Stir in the mini chocolate chips.
Spoon the batter into the prepared pan and bake at 350 for about 1 hour and 15 minutes or until a tester inserted in the thickest part of the cake comes out clean or with moist crumbs. Cool in pan about 10 minutes, then remove cake from pan. Cool completely on a wire rack.
To prepare the ganache:
Heat the cream in the microwave in 30 minutes intervals until the cream is hot and steaming. Time will vary depending on your microwave. The cream should be just almost ready to simmer…you do not want it to boil. Pour the hot cream over the chips and let sit for 5 minutes. Whisk the cream and chips together until smooth and glossy. Mix in the cayenne if using. Let it cool for about 10 minutes to thicken and pour over the cooled cake. The longer the ganache cools the thicker it will get.