Mexican Lasagna
Phillip
Taco night may be a thing of the past after you try this fun Mexican Lasagna! This flavor packed casserole is an easy and delicious meal the whole family will love!
Prep Time: 20 minutes / Cook Time: 30 minutes
Serves: 9
Ingredients: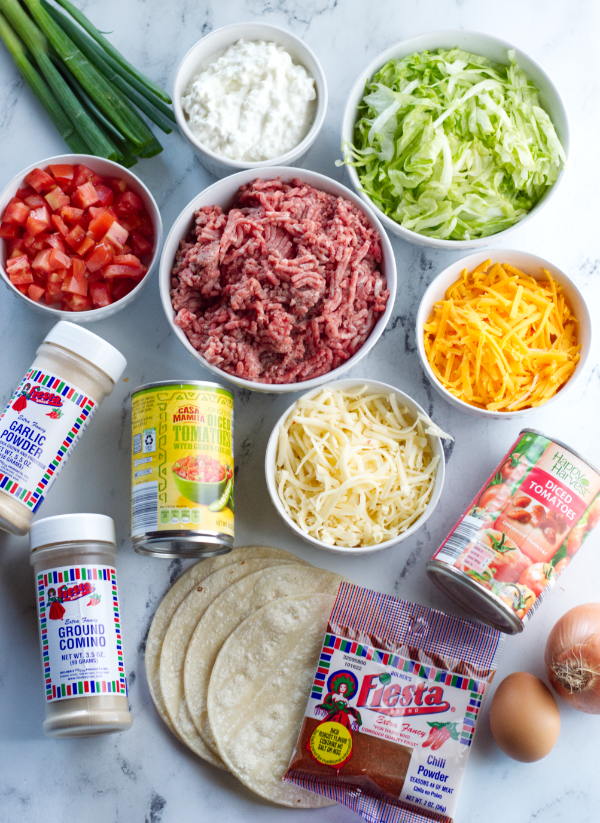 2 lbs. ground beef (85/15)
1 cup diced onion
2 tsp. salt
½ tsp. Fiesta Brand® Garlic Powder
1 ½ Tbsp. Fiesta Brand® Chili Powder
½ tsp. Fiesta Brand® Ground Comino
1 14 oz. can diced tomatoes in sauce
1 10 oz. can diced tomatoes with chilies (like Rotel)
1 ½ cup shredded pepper jack cheese
1 cup cottage cheese
1 egg
1 ½ cup shredded cheddar cheese
15-17 corn tortillas
For Serving: Shredded lettuce, diced tomato, sliced avocado, sour cream
Directions
Preheat oven to 350 degrees F. Lightly spray a 10x10x2 (2.5 quart) casserole dish and set aside.
In a Dutch oven or large skillet combine the ground beef, diced onions, salt, garlic powder, chili powder and comino. Cook over medium high heat 10-12 minutes or until beef is browned. Add the both cans of tomatoes and simmer 5 minutes. Remove from heat and set aside.
In a small bowl, stir together pepper jack cheese, cottage cheese and egg until well combined.
Line the bottom of the casserole with about 5 tortillas, cutting them in half to fit up to the sides of the pan. Top the tortillas with half of the meat mixture and repeat the tortilla layer. Spread the cottage cheese mixture evenly over the tortillas, and once again repeat the tortilla layer. Top with the remaining meat mixture and sprinkle the top with shredded cheddar cheese.
Bake at 350 for about 30 minutes or until the cheese is melted and the casserole is bubbly. Let the lasagna cool for 10 minutes before cutting. Serve topped with shredded lettuce, diced tomatoes, sliced avocado and sour cream as desired.