South-of-the-Border Chicken Salad
Phillip
This quick and easy, spiced up South-of-the-Border Chicken Salad is loaded with cultural flavors you crave! Served up in lettuce cups, wrapped in a tortilla, on a bed of lettuce, or even as a dip, this delicious, creamy chicken salad is a real crowd pleaser!
Serves 3-4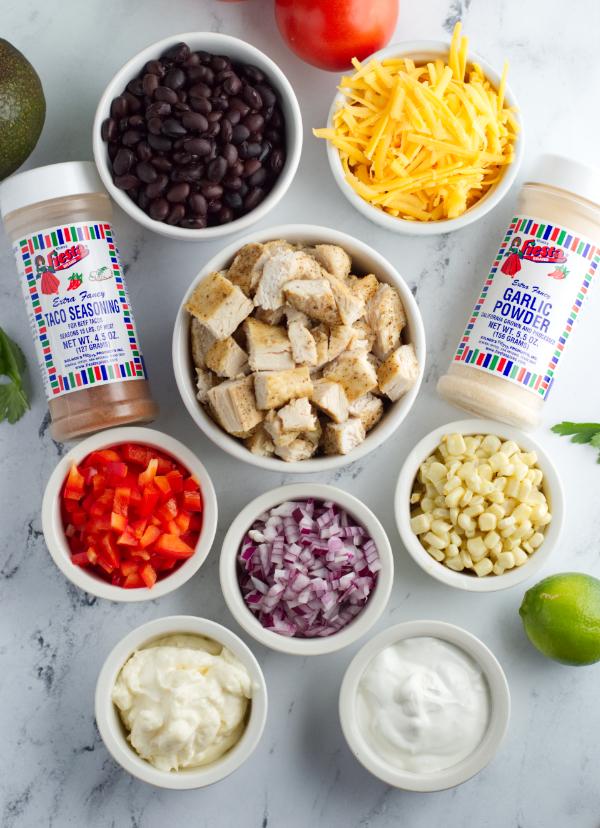 Ingredients:
2 cups diced cooked chicken
½ cup shredded sharp cheddar cheese
¼ cup diced bell pepper
2 Tbsp. finely diced purple onion
½ cup frozen corn, thawed
½ cup black beans, drained and rinsed
1 Tbsp. chopped fresh cilantro
1 medium avocado, diced
Garnish Options: Diced Tomato, Sliced Olives, Sliced Green Onions, Crushed Corn Chips
Dressing:
½ cup sour cream
1/3 cup mayonnaise
½ tsp. Fiesta Brand Garlic Powder
1 tsp. Fiesta Brand Taco Seasoning
¼ tsp. lime zest
¼ tsp salt

Directions
Combine the first 7 ingredients in a large bowl and toss to combine.
Combine the sour cream, mayonnaise and next 4 ingredients and stir will to combine. Pour over the chicken mixture and toss gently. Cover and chill the salad for at least an hour before serving. Just before serving gently mix in the diced avocado. Serve and garnish as desired.
Recipe Notes:
This recipe can easily be doubled for entertaining a crowd!