Southwest Corn Chowder
Phillip
Southwest Corn Chowder is exactly what you need to warm you up on a cool Spring night… a creamy, hearty soup packed with spicy Southwest flare.  This quick and easy one pot wonder is great for a comforting weeknight meal!
Yields 4-6 servings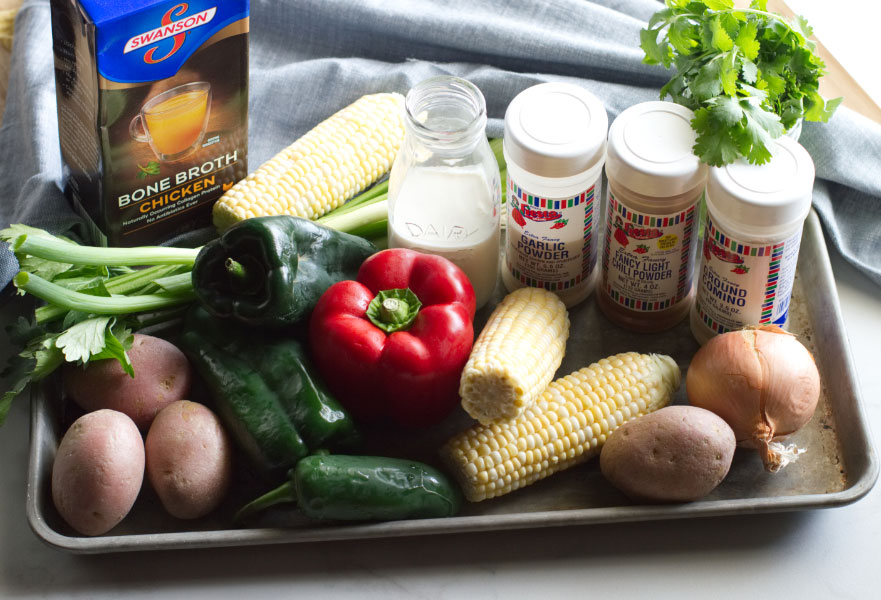 Ingredients:
1 Tbsp. butter, olive oil or bacon drippings
1 medium onion, diced
3 ribs celery, diced
2 poblano peppers, seeded and diced
1 fresh jalapeno, seeded and diced
1 red bell pepper, seeded and diced
1 tsp. Fiesta Brand Cumin
½ tsp. Fiesta Brand Chili Powder
1 tsp. Fiesta Brand garlic powder
8 medium red potatoes, diced into ½" cubes
6 ears of fresh corn, shucked & cleaned (or for a super quick version, use 2 cans of creamed corn)
4 cups chicken stock or broth
Salt & Pepper
½ cup heavy cream or half & half
3 Tbsp. corn starch
Garnish: Charred corn, crumbled bacon, cheese, sour cream, diced jalapeno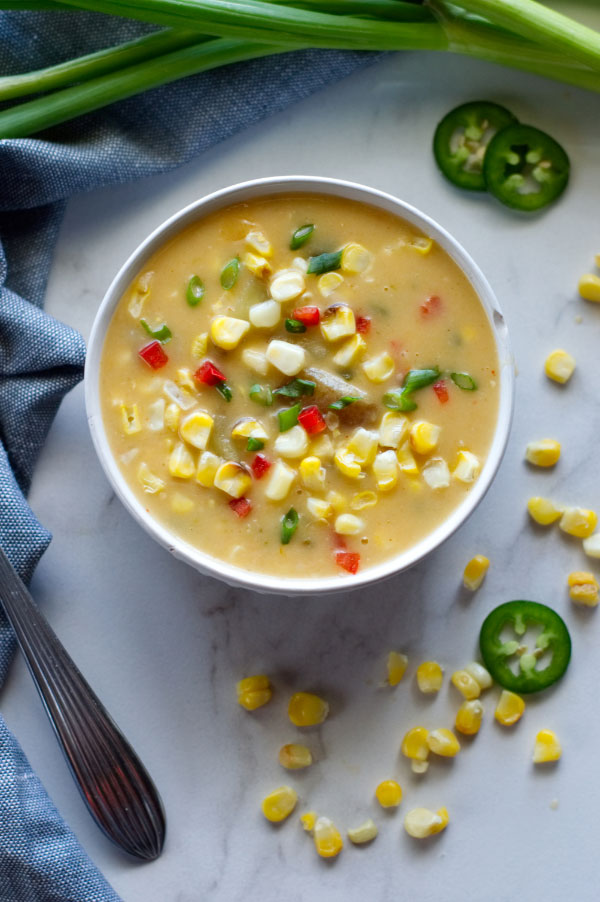 Directions:
If using fresh corn:  Place a small bowl upside down in the center of a pie plate.  Place the flat end of the corn cob onto the bowl base and carefully cut the corn kernels off the cob.  The corn kernels will fall and collect in the pie plate.  After the corn kernels are removed, scrape the cob with the back of a butter knife, collecting all the juices from the cob.  Repeat for all six cobs.  Remove the bowl from the pie plate and set the corn aside.
In a stock pot over medium heat, add butter or oil and the onion, celery and all the peppers.  Season with 1 tsp of salt and sauté for 5-7 minutes or until veggies start to get tender.  Add the cumin, chili powder and garlic to the veggies and continue to cook for a minute.  Add the stock, potatoes, and corn with all the liquid to the veggies.  Bring to a boil and lower heat to simmer for 15 minutes or until potatoes are fork tender.
In a measuring cup, measure out the ½ cup of cream and add the cornstarch.  Mix till combined.  Once potatoes are tender, pour in the cream-cornstarch mixture.  Bring the mixture back up to a simmer, stirring constantly till thickened.  Taste and add salt and pepper as desired.  Serve up into bowls and garnish as desired!