Southwest Quinoa Salad
Phillip
This gorgeous Southwest Quinoa Salad is a festive and delicious side that's naturally gluten free! Great for serving a crowd, this fun salad is best served at room temperature or slightly chilled.
Serves 8-10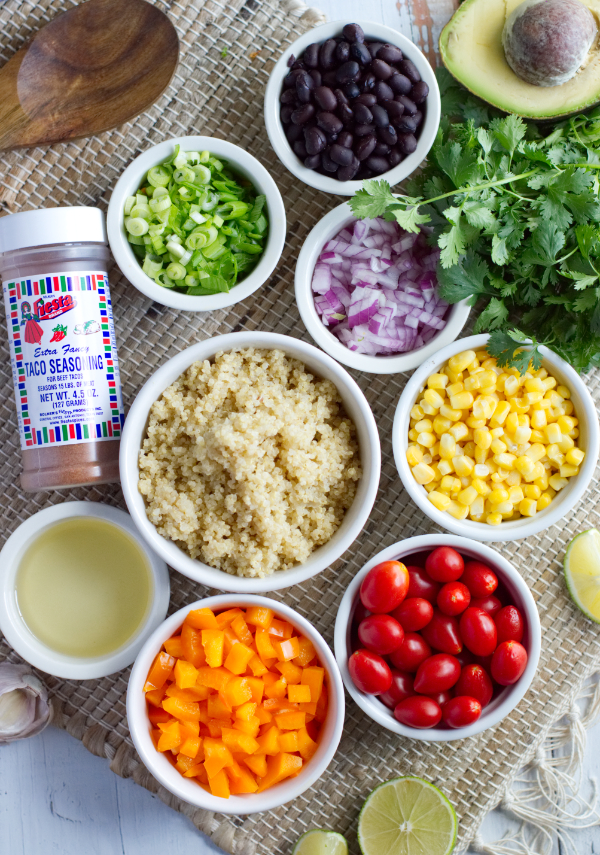 Ingredients:
1 cup quinoa, rinsed well and drained (*see recipe notes)
¾ cup water or stock
1 15 oz. can black beans, drained and rinsed
1 cup frozen corn, thawed
½ cup diced bell pepper
1 cup halved grape tomatoes
¼ cup finely diced purple onion
¼ cup sliced green onion
2 Tbsp. chopped fresh cilantro
1 medium avocado, diced
Dressing:
¼ cup olive oil
3 Tbsp. fresh lime juice
½ tsp. honey
1 clove garlic, grated or 1/8 tsp. Bolner's Fiesta Brand® Garlic Powder
1 tsp. Bolner's Fiesta Brand® Taco Seasoning
¼ tsp salt or Bolner's Fiesta Brand® Fajita Seasoning
Directions
Combine rinsed quinoa and water or stock into a saucepan. If you are using water, add ½ tsp. of salt to the water. Bring to simmer, cover and reduce heat to low. Cook over low heat for about 15 minutes. Remove from heat and let the quinoa sit covered for 5-10 minutes. Uncover and fluff with a fork.
Combine cooked quinoa, black beans, corn and the next 5 ingredients in a large bowl and toss gently to combine. In a small bowl, combine the ingredients for the dressing and stir together. Pour the dressing over the quinoa mixture and gently toss to combine. Taste and adjust seasonings as desired.
Before serving toss in the diced avocado, sprinkle with a little extra taco seasoning and sprinkle with additional chopped cilantro. Serve at room temperature or slightly chilled.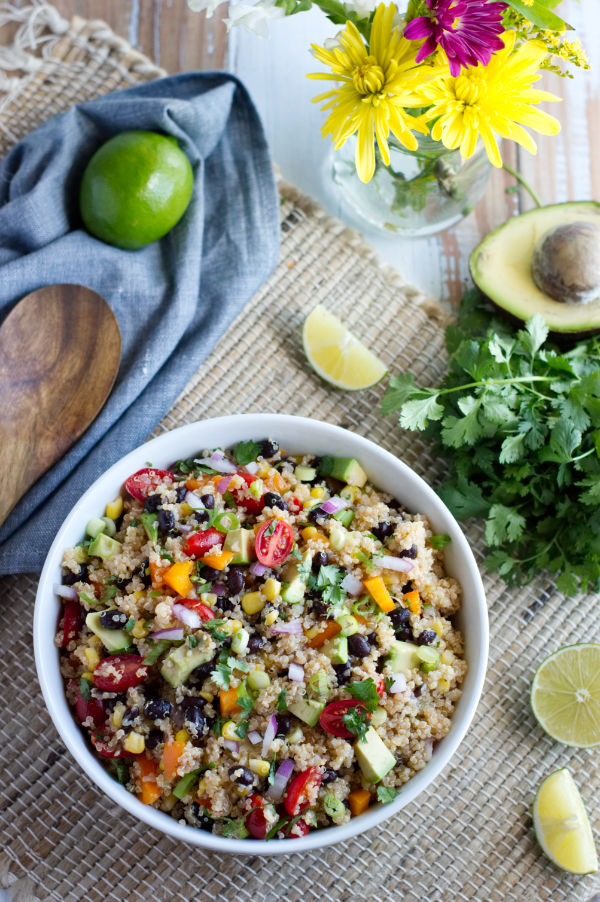 Recipe Notes:
Quinoa should always be rinsed prior to cooking. Rinse in a fine mesh strainer under cool water until the water runs clear, rubbing the quinoa in your hands and against the strainer. Drain and its ready to use!