Squash & Corn Sauté
Phillip
This easy summer side dish is great for using all the fresh summer farm stand veggies, and is light and healthy to cook throughout the fall and winter. Quick and simple, Squash & Corn Sauté is a side the whole family will love!
Prep Time: 15 mins
Cook Time: 20 mins
Serves: 6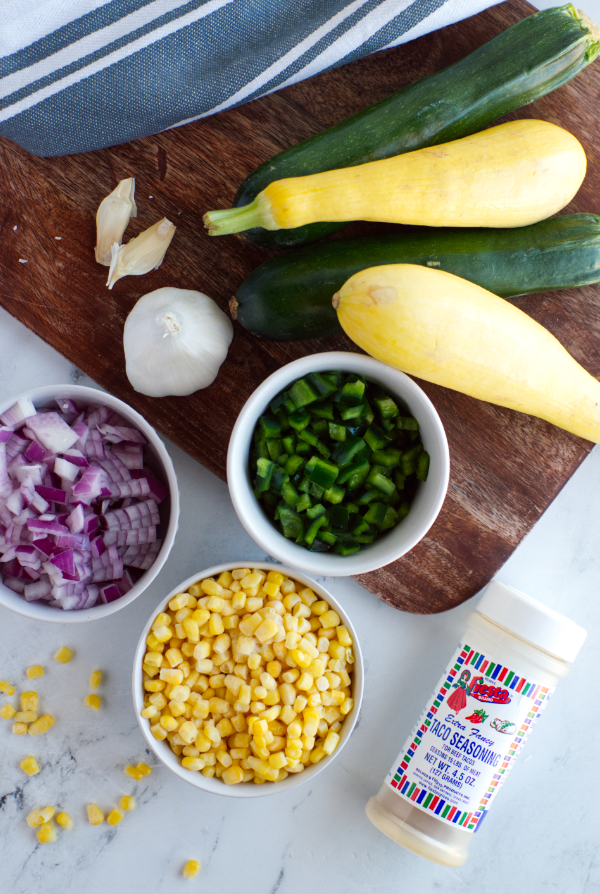 Ingredients:
4 Tbsp. butter
1 purple onion, diced
3 cloves garlic, finely minced
1 poblano pepper, seeded and diced
3 medium zucchinis, diced
3 medium yellow squash, diced
2 tsp. Bolner's Fiesta Brand Taco Seasoning
2 cups frozen or fresh corn kernels
Bolner's Fiesta Brand Fajita Seasoning
Garnish: Chopped Cilantro

Directions
In a large skillet, melt butter and sauté diced onion until almost translucent, about 3-5 minutes. Add the garlic and cook for another minute. Stir in the poblano pepper, zucchini and yellow squash, season with taco seasoning and sauté until the squash is tender. Add the corn and cook for another 3-5 minutes. Taste and season with Fajita Seasoning as desired. Serve topped with chopped cilantro.