Summer Corn Salad
Phillip
This easy Summer Corn Salad features the absolute best of summer…sweet fresh corn, crisp peppers, ripe tomatoes and creamy avocado with a bright vinaigrette spiced simply with our versatile taco seasoning! Perfect for any summer cookout or BBQ!
Prep Time: 10 mins
Cook Time: 15 mins
Serves: 6-8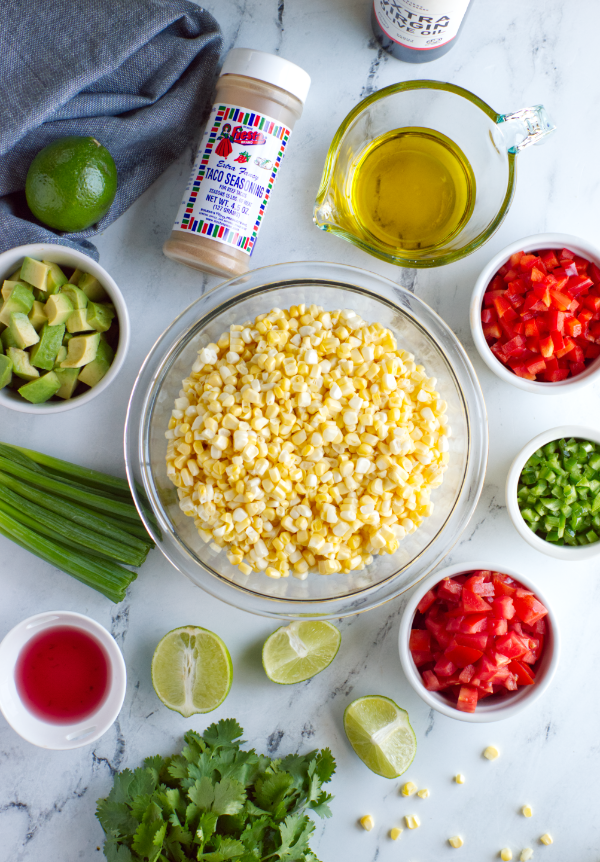 Ingredients:
6 ears fresh corn, shucked
2 ripe tomatoes, diced
½ cup diced bell pepper
2 Tbsp. finely diced jalapeno
¼ cup sliced green onion
2 Tbsp. chopped cilantro
1 large avocado, diced
1 tsp. salt
1/3 cup olive oil
1 Tbsp. fresh lime juice
2 Tbsp. red wine vinegar
½ tsp. sugar
1 tsp. Fiesta Brand® Taco Seasoning

Directions
In a large pot of boiling salted water, blanche the ears of corn for 2-3 minutes. Place the corn into an ice bath to stop the cooking process and cool. Once cool, cut the corn kernels off the cob and place them into a large bowl.
To the corn, add the tomatoes, bell pepper, jalapeno pepper, green onion, cilantro, diced avocado and season with salt. Toss to combine.
In a small bowl or jar combine the olive oil, lime juice, vinegar, sugar and Taco Seasoning and stir to combine. Pour the prepared dressing over the corn mixture and gently toss to coat. Cover and refrigerate until serving.
Recipe Tip: If preparing the salad more than a few hours in advance, wait to mix in the diced avocado until about 30 minutes before serving.