Yogurt Marinated Chicken Fajita Kebabs with Avocado Crema
Phillip
These juicy and flavorful chicken kebabs are marinated in spiced up Greek yogurt for maximum flavor and tenderness, then served up with a cool, tangy Avocado Lime Crema. These kebabs are sure to be a summertime hit! Great for a low carb lifestyle!
Serves 4-5

Ingredients:
1 ½ pound boneless skinless chicken thighs, cut into about 2" pieces
1 cup Greek yogurt, full fat
1 Tbsp. olive oil
1 tsp. Garlic Powder
½ tsp. Cumin
1tsp. Chili Powder
1 ½ tsp. Fiesta Brand Fajita Seasoning
½ tsp. salt
1 ½ Tbsp. fresh lime juice
For the Avocado Lime Crema
1/2 cup sour cream
1/3 cup mashed avocado
1 green onion, 3-4 pieces
1/2 tsp. salt
1/2 tsp. Garlic Powder
1/4 cup cilantro
1 Tbsp. lime juice
¼ cup milk or half & half
Kebab Veggies
1 large zucchini, cut into ¾" slices
1 large yellow squash, cut into ¾" slices
1 red bell pepper, cut into pieces about 1 ½" pieces
½ large purple onion, cut into thirds and separated
Salt & Pepper
4-6 skewers, metal or wooden
Garnish: Chopped Cilantro and Fresh Lime Wedges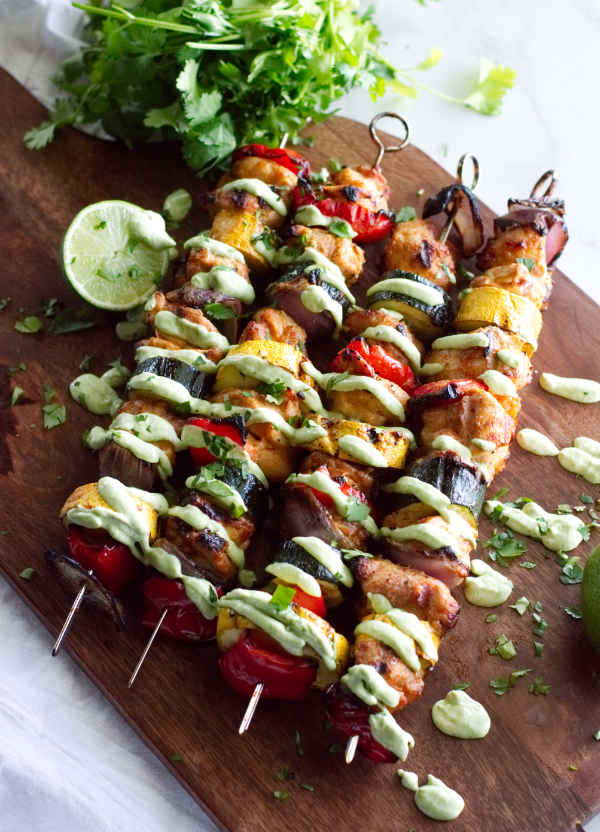 Directions:
To Prepare the Marinade:

Place the cut-up chicken into a gallon zip top bag. Combine the yogurt and the next 7 ingredients in a bowl, stir to combine and pour into the bag with the chicken, remove the air and seal. Mix until all the chicken is coated with the yogurt marinade and refrigerate for at least 2-4 hours.
Prepare the Avocado Lime Crema:
Place all the ingredients for the Avocado Lime Crema into blender and blend till smooth. Place in bowl, cover and refrigerate until serving. This can also be done in a food processor or with an immersion blender.
To Assemble Kebabs:
If using wooden skewers, soak them in water for at least 30 minutes prior to assembly to prevent excess burning on the grill.
Preheat the grill to 430-450 degrees. After the chicken has marinated, time for assembly. Skewer the marinated chicken and veggies, alternating as desired. You want about 4 pieces of chicken on each skewer with veggies placed between. Place the kebabs on a sheet pan and repeat until all the meat and veggies are gone. Don't worry if the yogurt mixture gets on the veggies during this process…it's a little messy but worth it! When all the kebabs are assembled, drizzle them lightly with a little additional olive oil, paying particular attention to the veggies and season lightly with salt and pepper.
Place the kebabs on the preheated grill for 10-12 minutes per side or until the chicken is cooked through. Place the grilled kebabs on a platter, drizzle with the Avocado Lime Crema and garnish with chopped cilantro and extra lime!