Zucchini Salad
Phillip
This no fuss summer salad features raw zucchini, thinly sliced and dressed with a brightlemon and olive oil dressing featuring Fiesta Brand Italian Choice Seasoning. Fresh herbs, toasted pecans and shaved Parmesan take this simple salad over the top!
Prep Time: 20 mins
Serves: 4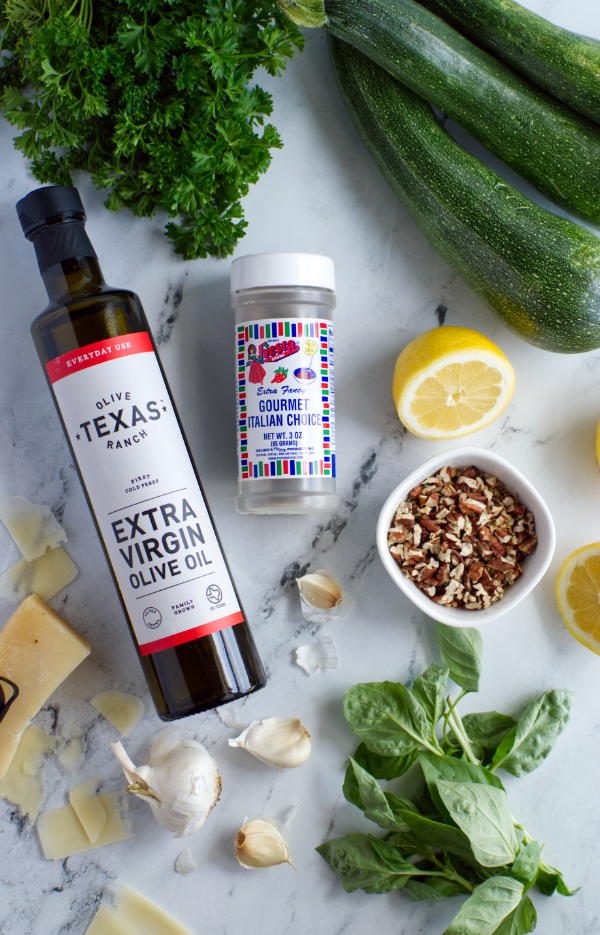 Ingredients:
2 lbs. medium zucchini, sliced very thinly lengthwise
2 cloves garlic, finely minced or 2 teaspoons Fiesta Brand® Garlic in Oil
3 Tbsp. olive oil
3 Tbsp. fresh lemon juice
½ tsp. Fiesta Brand® Gourmet Italian Choice Seasoning
1 Tbsp. chopped parsley
2 Tbsp. chopped basil
¼ cup chopped pecans, toasted
¼ cup shaved Parmesan

Directions
Place the thinly sliced zucchini in a colander and sprinkle with ½ tsp. salt. Let the zucchini sit for 20 minutes, rinse well, drain on paper towels and pat dry. Set aside.
Stir together thechopped garlic, olive oil, lemon juice andItalian seasoning.
In a bowl, gently toss together the zucchini with the prepared dressing and let sit for at least 30 minutes. Before serving, toss with chopped parsley, basil, toasted pecans, parmesan and season with salt and pepper as desired and serve. Refrigerate any leftovers.