Cajun Potato Crisps
Phillip
The taste of these homemade potato chips can't be beat! Simple and easy to make these Cajun Potato Crisps are the perfect addition to any outdoor gathering! Serve them with your favorite dip, guacamole or straight up!
Prep Time: 25 mins / Cook Time: 3 mins
Serves 9-10
Ingredients: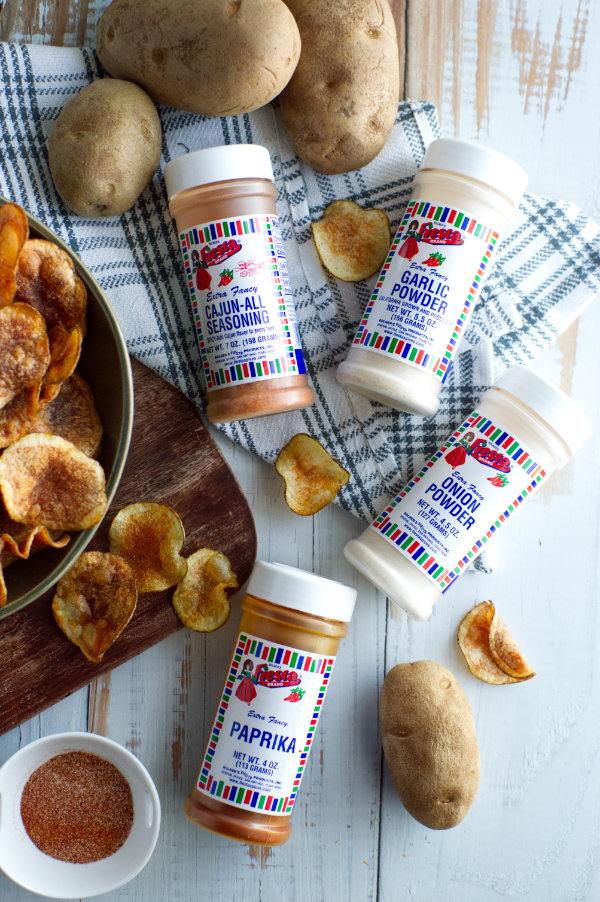 2 pounds baking potatoes, washed & scrubbed (about 4-5 medium potatoes)
1 Tbsp. Fiesta Brand® Cajun-All Seasoning
1 ½ tsp. Fiesta Brand® Paprika
1 ½ tsp. Fiesta Brand® Garlic Powder
1 ½ tsp. Fiesta Brand® Onion powder
Frying Oil
Directions
Slice potatoes thinly (about 1/16") and place in a large bowl of ice water. Let sit for at least 20 minutes. Drain the potato slices and dry thoroughly on paper towels. If the potatoes are wet they will splatter and pop.
Combine the Cajun seasoning, paprika, garlic powder and onion powder. Mix well and set aside.
In a Dutch over, pour about 2 inches of oil and heat to 350 degrees. Fry the potato slices in small batches for 3-4 minutes or until golden brown and crisp. Remove the potato slices and drain on a sheet pan lined with paper towels. Immediately sprinkle the seasoning over the hot chips. Repeat until all the chips are fried. Store in a covered container at room temperature.
Note: For the best results, use a slicer, food processor or mandoline for slicing the potatoes. Cooking time will vary based on the thickness of the potato slices. As the chips brown remove them from the oil to prevent burning.