Cajun Snack Mix
Phillip
There is something for everyone in this fun, spiced up snack mix! Great for entertaining or pack it up and give it to family and friends…either way it's irresistible!
Yields about 6 quarts

Ingredients:
Cajun Snack Mix
2 cups mixed nuts, salted and roasted
3 cups corn or rice Chex
3 cups corn chips (like Fritos)
3 cups cheese snack crackers (like Cheese-Its)
4 1/2 cups garlic rye chips
For the topping:
1 cup butter, melted
3 Tbsp. Worcestershire sauce
1 tsp. Fiesta Brand Garlic Powder
½ tsp. celery salt
½ tsp. Fiesta Brand Paprika
1 ½ tsp. Fiesta Brand Cajun-All Seasoning
¼ tsp. Fiesta Brand Cayenne Pepper
½ Tbsp. hot sauce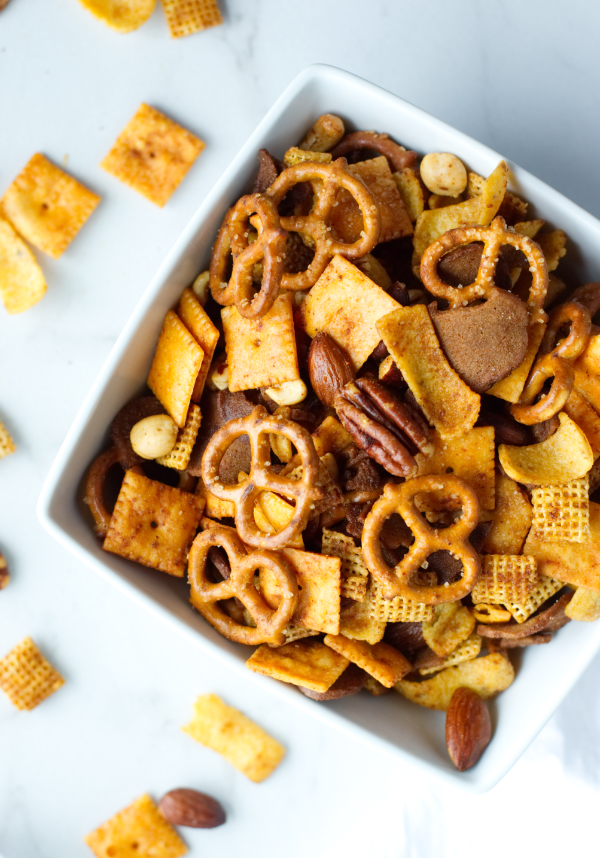 Directions:
Preheat oven to 250 degrees and line two large sheet pans with parchment.
In a large bowl or stock pot, combine the first five ingredients and toss gently to mix. You need the bowl or pot to be large enough to toss or gently stir the mixture together.
Combine the melted butter and the next 7 ingredients in a large measuring cup or bowl and whisk to combine.
Evenly drizzle half of the butter mixture over the snack mix ingredients and gently toss to coat. Pour the remaining butter mixture over the snack mix and continue to toss until all the ingredients are evenly coated.
Divide the snack mix between the two lined sheet pans and spread evenly into one layer. Bake at 250 degrees for 1 ½ hours stirring every 20-25 minutes. Remove from oven and let the mixture cool completely before packing it up. Store in an airtight container.