Chili Cheese Pinwheels
Phillip
These fun Chili Cheese Pinwheels are an appetizer that everyone goes crazy for! Easy to prepare and perfect for any appetizer table or holiday buffet, these cheesy bites always fly off the table! Great to prep ahead of time, slice and bake just before serving.
Prep Time: 15 minutes
Cook Time: 12 minutes
Serves: 36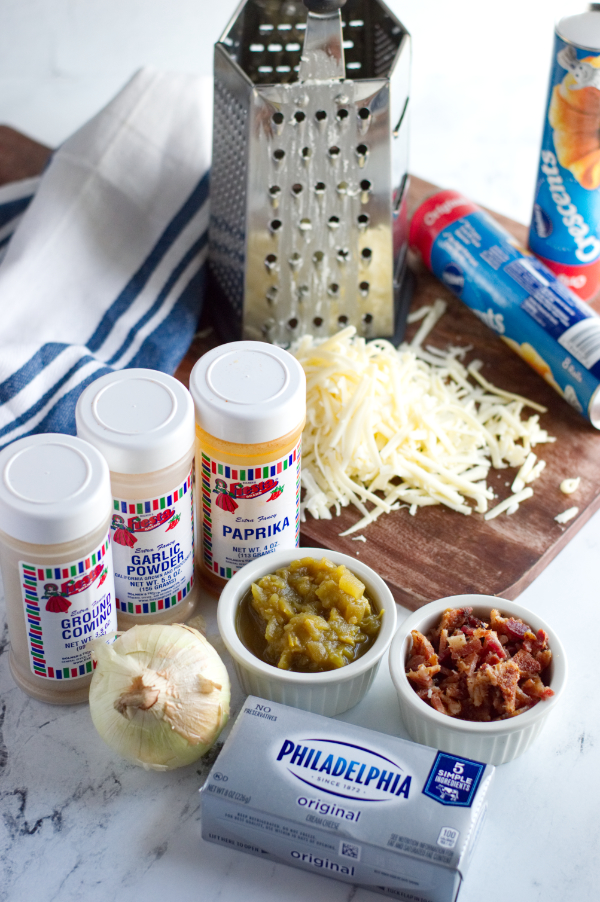 Ingredients:
1 Tbsp. butter
1/3 cup diced onion
6oz. packages cream cheese, softened
¼ cup diced green chilis
1 cup Shredded Monterrey Jack cheese
¼ tsp. Fiesta Brand® Paprika
½ tsp. Fiesta Brand® Garlic Powder
½ tsp. Fiesta Brand® Ground Comino
6 pieces crispy bacon, finely chopped
2 8 oz. tubes refrigerated crescent roll dough

Directions
In a small skillet, melt butter and sauté onion until translucent and begins to turn golden. Set aside to cool.
Combine cream cheese, chilis, cheese and the next 3 ingredients and mix well. Stir in the bacon and cooked onion.
Open one tube of crescent roll dough onto parchment and press the perforations together to seal. Spread half of the cream cheese mixture evenly over the dough. Starting with the long end of the dough, roll the crescent dough roll up jelly roll style and pinch to seal. Repeat with the other tub of crescent roll dough. Wrap in parchment and refrigerate till firm or freeze. At this point the rolls can be refrigerated or frozen till your ready to bake. If freezing, wrap in parchment and foil.
To bake, preheat oven to 400 degrees. Slice the roll in about ½" slices and place on a parchment lined sheet pan. Bake for 10-12 minutes till golden. Serve warm.