Chipotle Cheddar Cheese Ball
Phillip
Chipotle peppers give this delicious cheese ball a smoky, spicy flare that will surprise and delight your guests! Perfect to serve at any holiday party or gathering, this easy appetizer pairs well with crackers or vegetables. Skip the last-minute hassle and make it ahead of time!
Serves 24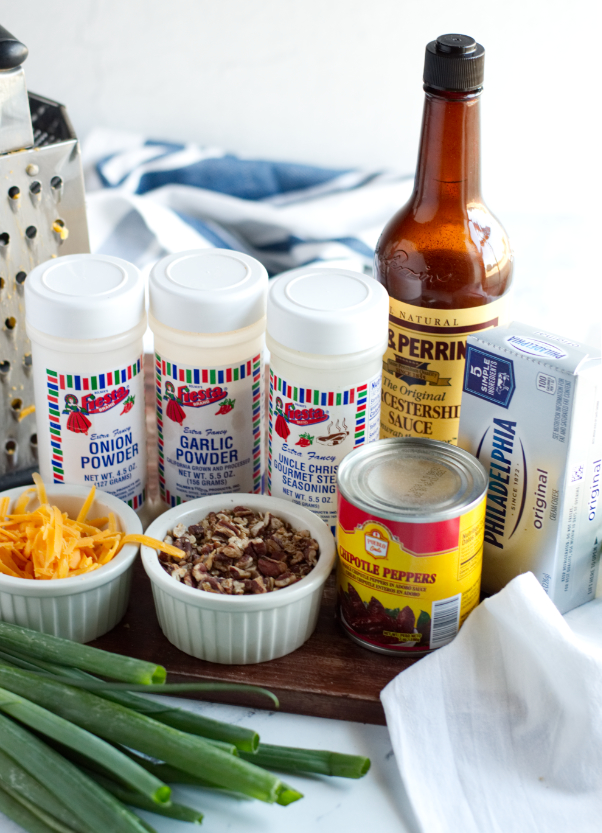 Ingredients:
2 8oz. packages cream cheese, softened
8 oz. sharp cheddar cheese, shredded
1 can chipotle peppers in adobo (will use 3 Tbsp. adobo sauce and 1 chopped pepper)
¾ tsp. Fiesta Brand® Uncle Chris's Gourmet Steak Seasoning
¾ tsp. Fiesta Brand® Onion Powder
¾ tsp. Fiesta Brand® Garlic Powder
1 tsp. Worcestershire sauce
¼ cup sliced green onion
1 ½ cup chopped pecans, toasted

Directions
In the bowl of a stand mixer fitted with a paddle attachment or with a hand mixer, beat cream cheese, shredded cheese, 3 tablespoons adobo sauce, 1 seeded and chopped chipotle pepper (from the can of chipotle peppers) and the next 5 ingredients will well combined. Cover and chill for 4-24 hours.
Divide the mixture in half and shape each into a ball. Roll each into the toasted pecans and place on serving platter and serve with cracker and fresh vegetables.