Mini Chili Cheese Nacho Bites
Phillip
These gorgeous Mini Chili Cheese Nacho Bites are perfect for entertaining a crowd! Using dried Ancho Chili Pods add incredible, rich chili flavor to these tasty little morsels! Quick and easy to assemble and fun to dress up with all your favorite topping combinations! Running short on time? Simply serve the chili cheese mixture in a casserole topped with cheese and all your favorite toppings along with chips for dipping!
Makes approx. 70 bites (about 2 ½ cups of chili cheese filling)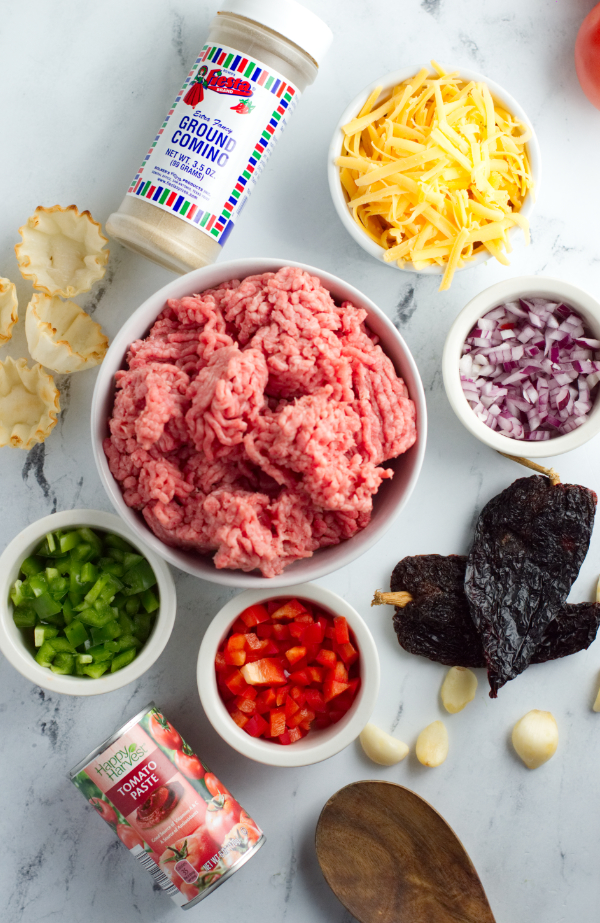 Ingredients:
1 pound ground beef
½ cup diced onion
½ cup bell pepper
4 cloves fresh garlic, finely chopped or 1 tsp Fiesta Brand® Garlic Powder
2 Tbsp. tomato paste
½ tsp Fiesta Brand® Ground Comino
2 Fiesta Brand® Dried Ancho Chilis, seeded & stem removed
2 tsp. salt
1 ½ cups shredded cheddar cheese
70 mini Phyllo shells (see recipe notes and variations for additional serving options)
Garnish: shredded cheese, sour cream, diced avocado, sliced olives, guacamole, sliced jalapeno

Directions
In a small saucepan combine the chilis and 3/4 cup water and bring to boil. Lower the heat to asimmer and cook uncovered for 10 minutes. Remove from heat and set aside. Once cooled, add the chilis to a blender with the remaining liquid (about ½ cup) and blend on high until smooth. Set aside.
In a medium skillet, combine the ground beef, onions and bell pepper and cook until the meat is done and no longer pink. Drain the beef and return to the skillet. Add the garlic and continue to cook until the beef begins to brown and caramelized. Stir in the tomato paste, comino, salt and blended chilis and simmer for 5 minutes over medium heat stirring often. Remove the mixture from the heat and stir in the shredded cheese until completely incorporated. Taste and add salt and pepper as needed.
To assemble: Place about one heaping teaspoon of chili cheese filling into each shell. Garnish as desired.
Recipe Variations:
To serve as a dip: Pour the chili cheese mixture into a casserole or baking dish. Top with cheese and bake at 400 till cheese is melted. Garnish as desired and serve warm with tortilla or corn chips.
Recipe Notes:
– The recipe above can be cut in half if less servings are needed.
– "Scoopable" tortilla chips, mini taco shells or homemade mini tortilla bowls can also be used in place of phyllo cups. Phyllo cups are typically found in the dessert area of the freezer section.