Southwest Cheesy Hash Brown Bake
Phillip
This spiced up Southwest Cheesy Hash Brown Bake is a classic comfort food dish with fun spicy Texas flare thanks to our versatile Taco Seasoning! This casserole is great for the holidays or for any potluck and can be easily doubled if serving a crowd.
Prep Time: 20 minutes
Cook Time: 40 minutes
Serves: 8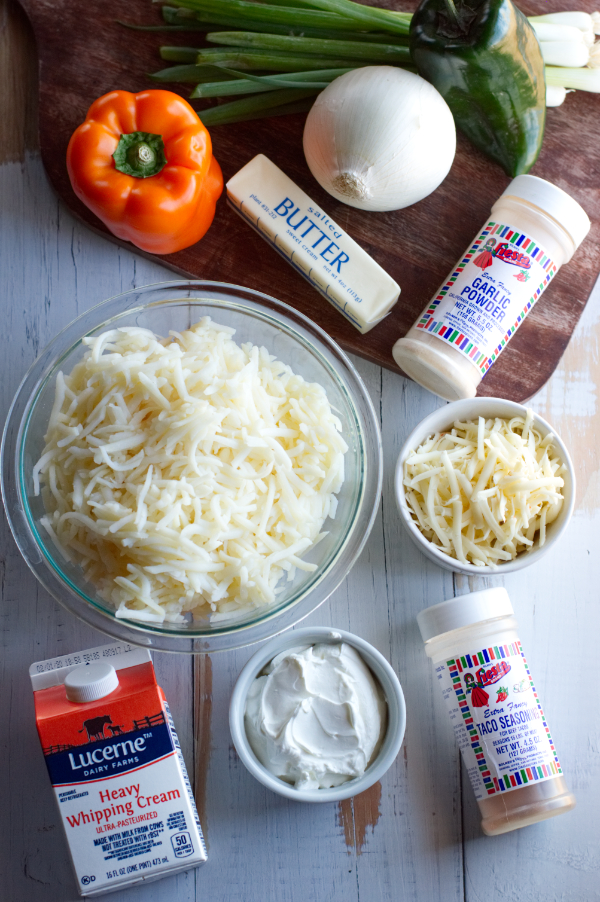 Ingredients:
4 tablespoons butter
½ cup diced onion
1 poblano pepper, diced
½ cup diced bell pepper
½ teaspoon Bolner's Fiesta Brand® Garlic Powder
½ teaspoon salt
¼ cup half and half
¼ cup cream
1 teaspoon Bolner's Fiesta Brand® Taco Seasoning
1 20 oz. package shredded hashbrowns, (if using frozen, thaw prior to use)
1/3 cup sour cream
2cupsshredded pepper jack cheese, divided
¼ cup sliced green onions

Directions
Preheat oven to 350 degrees. Lightly grease a 9×9 baking pan or your casserole dish of choice and set aside. If using frozen hash browns, make sure they are thawed.
In a small skillet, melt butter and sauté onion, bell peppers, and diced poblanos seasoned with garlic powder and salt until translucent and tender. Add the half and half, cream and Taco Seasoning and continue to simmer 3-4 minutes, stirring constantly, until thickened. Set aside.
In a mixing bowl, combine the hashbrowns, sour cream, vegetable mixture and 1 ½ cups shredded cheese; mix well to combine.
Spread potato mixture evenly into the prepared pan and top with remaining cheese and green onion. Bake at 350 for 35-45 minutes or until hashbrowns are tender.