Zucchini Cheddar Bread
Phillip
Savory Zucchini Cheddar Bread is great served for breakfast, with a soup or salad or for snacking on any time of day! It's a great way to use up any surplus zucchini you have from your summer garden!
Makes One Loaf

Zucchini Cheddar Quick Bread Ingredients: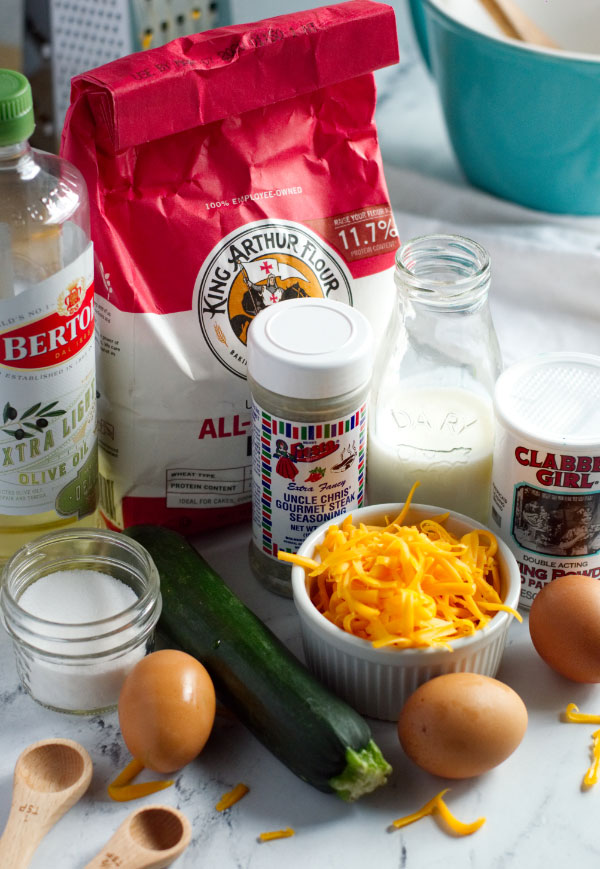 2 ¼ cup all-purpose flour
1 Tbsp. baking powder
½ tsp. salt
1 tsp. Fiesta Brand® Uncle Chris's Gourmet Steak Seasoning
½ Tbsp. sugar
3 eggs, lightly beaten
¾ cup buttermilk
6 Tbsp. olive oil (not extra virgin)
1 cup grated zucchini, squeezed dry*
½ cup shredded sharp cheddar cheese
2 Tbsp. salted butter, melted
Directions
Preheat oven to 350 degrees. Lightly grease a 8×4 inch loaf pan and line with parchment if desired.
In a large bowl combine the flour, baking powder, salt, steak seasoning, and sugar and stir to combine. In a small bowl stir together eggs, buttermilk and oil and add to the flour mixture stirring just until the dry in ingredients are combined. Gently stir in the dry zucchini and cheese.
Pour the batter into the prepared loaf pan. Pour the melted butter on top of the batter and bake at 350 for 30-35 minutes or until a wooden tester comes out clean. Loaf should be light golden brown on top. Cool in pan for at least 15 minutes, then remove from pan and cool completely.
*Note: After grating and measuring out the zucchini, place it between a few paper towels and lightly press to remove any excess moisture before adding it to the batter.