Apple Pie Blondies
Phillip
These buttery, spiced up, apple studded blondies are perfect for fall.Serve slightly warm, topped with vanilla ice cream and caramel sauce for a an over the top sweet treat!
Prep Time: 15 mins
Cook Time: 23 mins
Serves: 12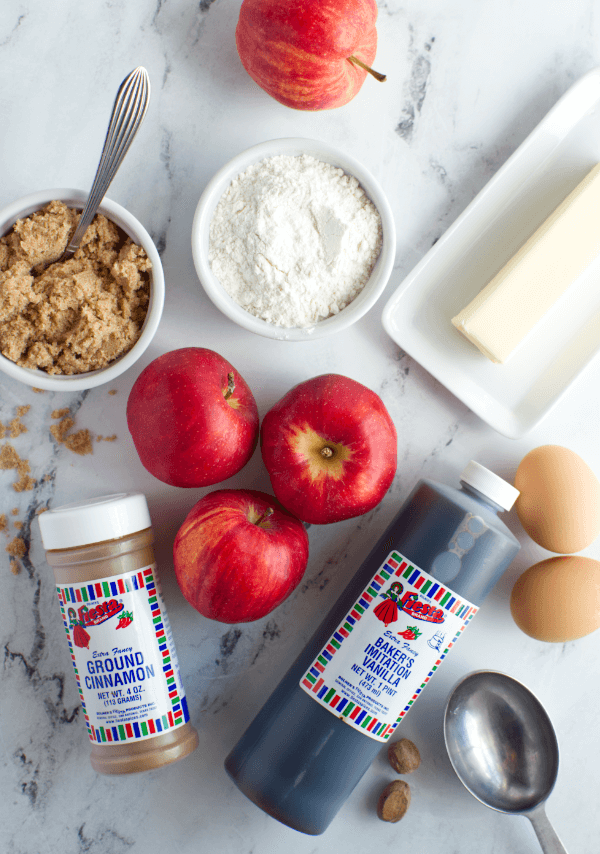 Ingredients:
1/2 cup butter
1 Tbsp. butter
1 1/3 cups apples, peeled and diced
2 Tbsp. light brown sugar
¼ tsp. Bolner's Fiesta Brand Ground Cinnamon
1 cup light brown sugar
2 eggs
1 ½ tsp. Homemade Vanilla Extract
1 cup + 3 Tbsp. all-purpose flour
1 tsp. baking powder
½ tsp. salt
1 tsp. Bolner's Fiesta Brand Ground Cinnamon
1/8 tsp. Bolner's Fiesta Brand Ground Nutmeg
Directions
Preheat oven to 350 degrees F. Lightly grease a 9×9 baking pan and line with parchment, set aside.
Melt ½ cup butter in a small skillet on medium low heat. Continue cooking the butter, stirring constantly for 5-7 minutes until the butter is golden brown in color and has a nutty aroma. Remove from the heat and pour butter into a mixing bowl.
In the same skillet, melt 1 tablespoon of butter over medium heat. Add diced apples, 2 Tablespoons of light brown sugar and ¼ tsp. ground cinnamon. Sauté for 2-3 minutes and set aside to cool.
To the mixing bowl with the browned butter, add the brown sugar and mix well to combine. Beat in eggs one at a time. Stir in vanilla. Combine flour, baking powder, salt, cinnamon and nutmeg and add to the sugar and egg mixture, stirring till well combined. Gently stir the cooked apple mixture into the batter. Pour the batter into the prepared pan and bake at 350 degrees F for 22-25 minutes or until done. Cool in pan on a wire rack. Cut into 12 bars and serve.