Cinnamon Bourbon Tiramisu
Phillip
This decadent, liquor spiked dessert is the perfect centerpiece for a holiday celebration. A bourbon and coffee-soaked cake layer,enrobed in a cinnamon spiced mascarpone custard, this easy dessert will be the talk of the table!
Prep Time: 30 minutes
Cook Time: 10 minutes
Inactive Prep: 6-8 hours
Serves: 9-12
Ingredients: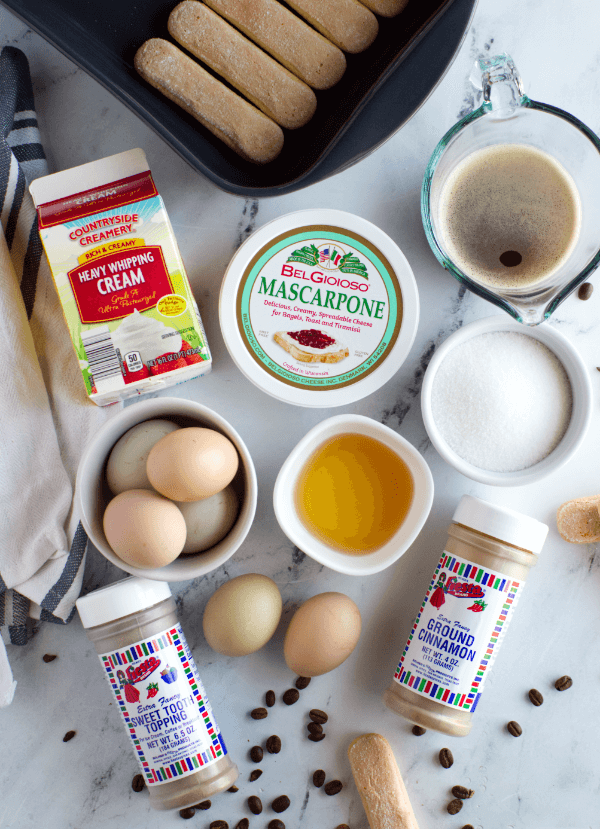 6 large egg yolks
1 cup sugar
1 ¼ cup mascarpone cheese, room temperature
1 cup strong coffee or espresso
1/3 cup bourbon
½ tsp. Fiesta Brand Ground Cinnamon
1 tsp. Homemade Vanilla Extract
1 ¾ cup heavy cream
36 – 40 ladyfinger cookies*
Bolner's Fiesta Brand Sweet Tooth Topping
Directions
Combine egg yolks and sugar in the top of a double boiler. Beat with a hand-held electric mixer until thick and pale. Bring the water in the double boiler to a boil. Reduce the heat to medium low and place the egg yolk mixture on top of the double boiler. Cook the egg yolk mixture, whisking constantly until it reaches 160 degrees, about 8-10 minutes. Remove from heat and let cool for 5 minutes.
Add the mascarpone cheese, cinnamon and vanilla to the egg yolk mixture and beat till well combined and no lumps remain.
With the hand-held mixer, beat the heavy cream at medium low speed until soft peaks form and then gently fold the whipped cream into the egg yolk and mascarpone mixture. Set aside.
Combine coffee and bourbon. Quickly dip each ladyfinger into the coffee mixture and line the bottom of a 9×9 or 11×17 dish, pushing the lady fingers together tightly. Pour half of the filling over the lady fingers and spread evenly. Dip and layer the remaining ladyfingers over the filling. Pour the remaining filling over the layer of lady fingers. Lightly sprinkle Fiesta Brand Sweet Tooth Topping over the top. Cover and chill for 6-8 hours or overnight.
Note: Use the hard ladyfingers commonly found in the cookie aisle of the grocery and not the soft cakey version found in the bakery department.