Cinnamon Pecan Granola
Phillip
This tasty and delicious granola is great for breakfast as cereal or with yogurt, as a snack or even sprinkled over ice cream for a crunchy dessert topping! Customize by adding your favorite dried fruit combo!
Prep Time: 10 minutes
Cook Time: 35 minutes
Makes about 8 cups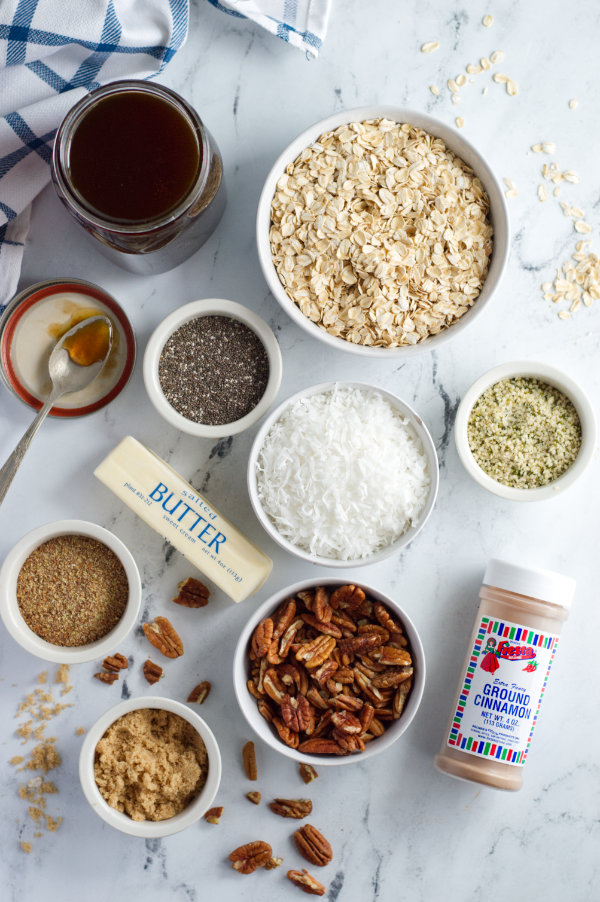 Ingredients:
3 cups rolled oats
2 cups chopped pecans
2 Tbsp. hemp hearts
2 Tbsp. chia seeds
2 Tbsp. golden flax meal
¾ cup shredded coconut
½ cup salted butter, melted
¾ tsp. Fiesta Brand® Ground Cinnamon
¼ tsp. salt
¼ cup honey
3 Tbsp. light brown sugar
1 tsp. Fiesta Brand® Imitation Vanilla
Optional Mix-Ins: Raisins, dried cranberries, banana chips, dried apricots, peaches or apples

Directions
Preheat oven to 300 degrees F. Line a large sheet pan with parchment. In a large bowl combine oats, pecans, hemp hearts, chia seeds, flax meal and coconut. In a small bowl combine, the melted butter, cinnamon, salt, honey, brown sugar and vanilla and mix well to combine. Pour the butter mixture over the oat mixture and toss to coat. Spread the coated oats out evenly on the prepared baking sheet and bake for about 35 minutesor until golden brown. Cool completely on the pan. The granola will firm up while cooling. Once cool, break up into pieces and mix in dried fruit if using. Store in an airtight container in a cool, dry place for up to a month.