Cinnamon Toast Breakfast Bake
Phillip
This simple and easy recipe turns simple cinnamon toast into decadent and comforting breakfast casserole the whole family will go crazy for. Perfect for a weekend brunch, a special occasion or a relaxing weekend morning! Are you a raisin lover? Use raisin bread instead of white bread!
Prep Time: 15 mins
Inactive Prep: 30 minutes
Cook Time: 60 mins
Serves 8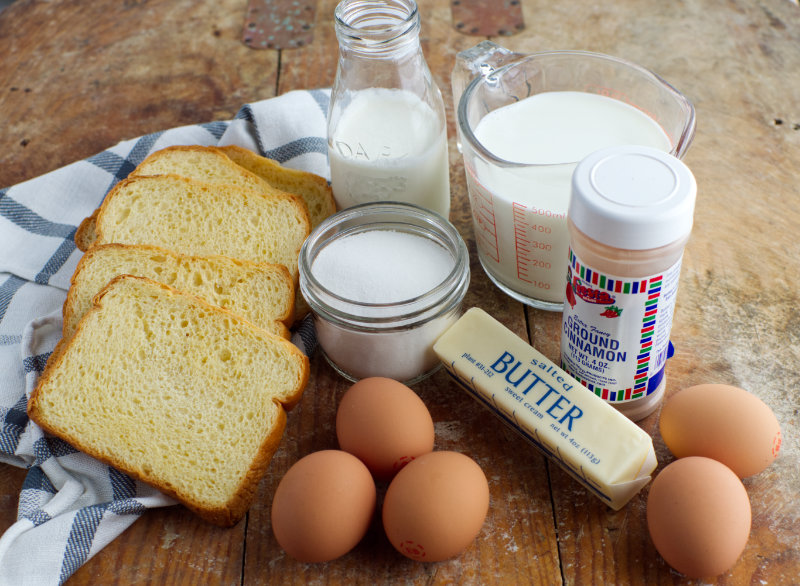 Ingredients:
10 slices white sandwich bread (stale bread is best!)
6 Tbsp. butter, room temperature
1/3 cup sugar
1 Tbsp. Fiesta Brand® Ground Cinnamon or Sweet Tooth Topping
1 ½ cups whole milk
½ cup heavy cream or half & half
4 eggs, lightly beaten
2 tsp. Fiesta Brand® Vanilla
Pinch of salt
½ cup sugar

Directions
Spread one side of each bread slice with evenly with butter and place on a large sheet pan. Combine 1/3 cup sugar with 1 tablespoon cinnamon and sprinkle evenly over the buttered side of the bread. Broil the bread on high for about 2 minutes or until brown and bubbly. Flip the toast over and toast for another minute or until golden. Remove from the oven and let cool.
Dice the toast slices into about 1 ½ inch pieces and a place pieces into a well buttered 9-inch deep pie plate, a 9×9 baking dish or an 11×7 baking dish and set aside.
Combine milk, cream, eggs, vanilla, salt and remaining sugar and whisk well to combine. Pour the milk mixture over the diced toast and let it sit for at least 30 minutes to an hour. Bake at 350 degrees for 50 – 75 minutes or until a knife inserted in the middle comes out clean. To prevent over browning, lightly cover with foil during the last 20 minutes if needed. Let sit 15-20 minutes before serving. Serve warm with maple syrup if desired.