Easy Peach Cobbler
Phillip
This Texas style peach cobbler is technically a buckle, but either way, it's incredibly easy and delicious! A buttery, tender cake batter bakes up around juicy peach slices, which makes the finished dessert look "buckled" in places! Made with just a few simple pantry and fridge ingredients, this fruity dessert can be on the table in no time! Serve it up warm, topped with vanilla ice cream!
Prep Time: 10 mins
Cook Time: 45 mins
Serves 10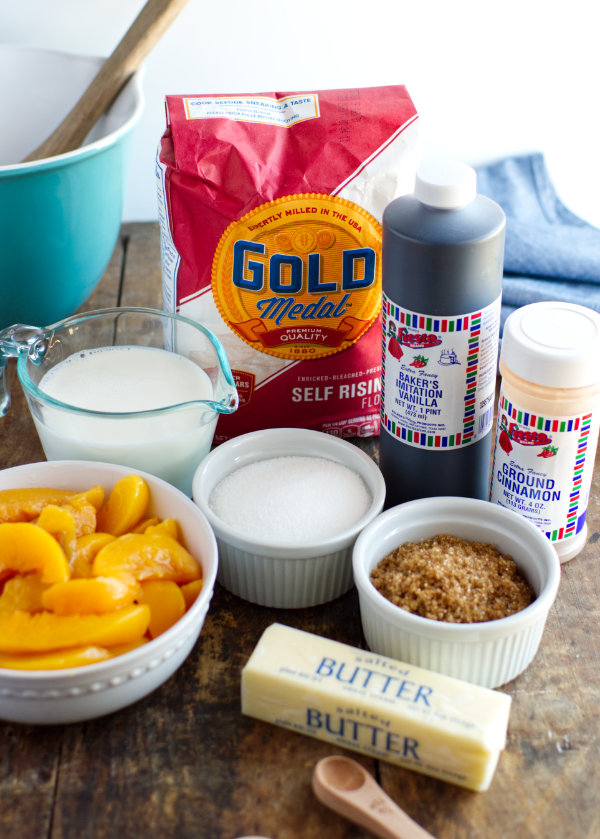 Ingredients:
1 ½ cups self-rising flour
1 cup sugar
½ cup light brown sugar
1 ½ cups whole milk
2 tsp. Bolner's Fiesta Brand® Imitation Vanilla
10 Tbsp. butter, melted
2 15.25 oz cans sliced peaches, drained
Topping
3 Tbsp. sugar
1 tsp. Bolner's Fiesta Brand® Ground Cinnamon

Directions
Preheat the oven to 350 degrees. Butter or grease a glass or metal 9×13 baking dish or pan and set aside. In a mixing bowl combine the flour, sugars, milk, vanilla and the melted butter and whisk to combine. Pour the batter into the prepared pan and top evenly with the drained peaches. Combine 3 tablespoons of sugar and the cinnamon, mix well and sprinkle evenly over the top of the batter. Bake at 350 for 45 minutes or until the top is golden brown. Serve warm with ice cream and enjoy!