Snickerdoodle Cheesecake Bars
Phillip
A buttery, snickerdoodle cookie crust topped with creamy, vanilla cheesecake layer and finished with more crispy, cinnamon cookie goodness, these fun and decadent cheesecake bars are always a favorite!
Yields 12 bars
Prep Time: 25 minutes
Bake Time: 40 minutes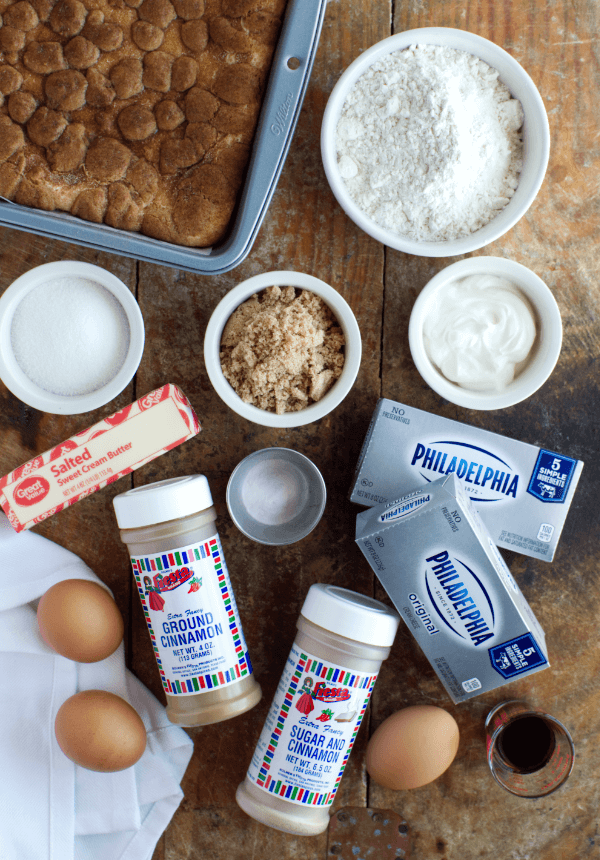 Ingredients:
For the crust and topping:
1 ¼ cup flour
¾ tsp. Bolner's Fiesta Brand Ground Cinnamon
½ tsp. baking soda
½ tsp. salt
1 tsp. cream of tartar
½ cup butter, softened
½ cup light brown sugar
¼ cup sugar
1 large egg
1 tsp. Homemade Vanilla Extract
1 Tablespoon Bolner's Fiesta Brand Cinnamon and Sugar
For the filling:
2 – 8oz. packages cream cheese, softened
2/3 cup sugar
Pinch of salt
2 eggs
¼ cup sour cream
1 tsp. Homemade Vanilla Extract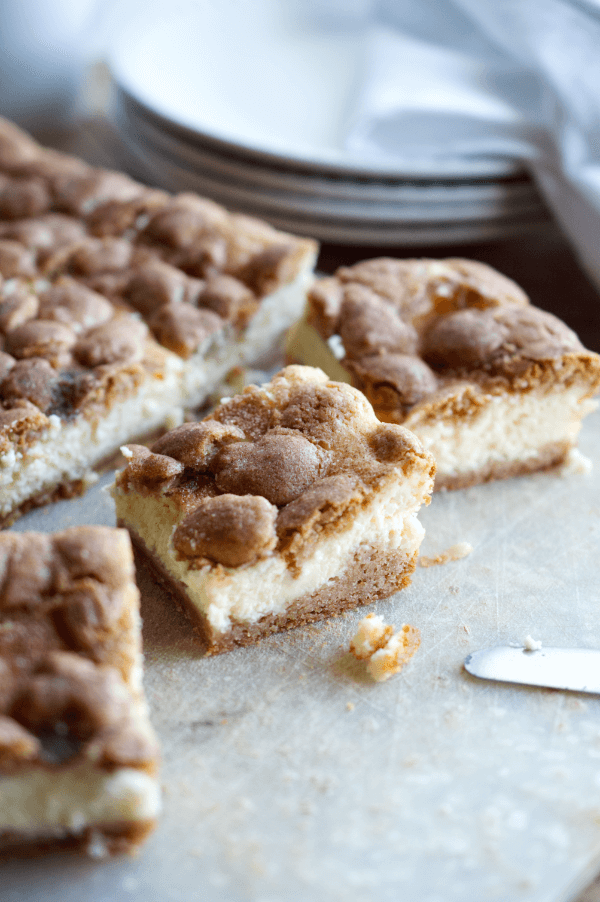 Directions
Preheat oven to 350 degrees. Lightly spray or butter a 9×9 baking pan and set aside.
To prepare the crust:
Sift together flour, cinnamon, baking soda, salt and cream of tartar. In a mixing bowl, cream butter. Add the brown and white sugar beating well. Add the egg and vanilla and mix well. Add the flour mixture to the butter mixture and stir well to combine. Remove about ½ cup of the batter, place in a bowl and refrigerate till needed. Press the remaining dough evenly into the bottom of the prepared pan. If the dough is a sticky, use damp fingers to press or chill for 10 – 15 minutes.
To prepare the cheesecake filling:
Beat the softened cream cheese with sugar and pinch of salt at medium speed until smooth. Add the eggs one at time, scraping down the sides of the bowl as needed. Stir in the sour cream and vanilla. Pour the batter into the prepared pan. Crumble the reserved dough in small pieces evenly over the top of the cheesecake batter. Sprinkle 1 tablespoon of cinnamon sugar evenly over the top of the cheesecake.
Bake at 350 for 35-40 minutes or until set. The center should still be just a little jiggly. Cool to room temperature and refrigerate for 4-6 hours. Cut chilled cheesecake into 9-12 bars and serve!